Colonel Alexander Bredin 1837-1927
The Bredins have a remarkable military history in India with many rotating the same family names, to make it more confusing for me. But I am getting better at solving such family riddles.
Thomas Bredin and Eliza McLaughery of Ballymahon, County Longford had seven children. Their second son, Alexander, was born in 1837. He started out as an Ensign in 1859 in 22nd Madras Infantry, probably stationed in the regimental headquarters of Hoshangabad. I am guessing that Bredin transferred to 3rd (later 63rd) Madras Native Infantry (Palamcottah Light Infantry), because he married in Palamcottah in 1870.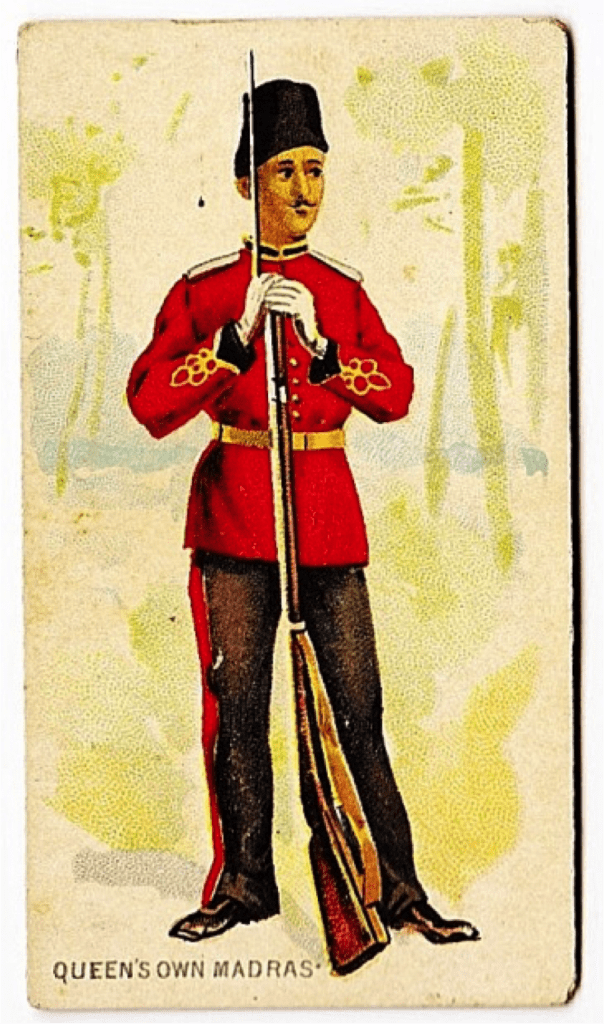 His bride, Alice Ann, was born in India as her father was the Right Reverend Thomas Edward Sargent, Bishop of Tinnevelly, in south India. It was unusual for officers to marry at such an early stage in their careers but Bredin managed it when a mere lieutenant. As was often the case, there was a considerable difference in age – 22 years – between bride and groom. The couple's first child was born in Palamcottah in 1871 and, unsurprisingly, christened Alexander.
That same year, the armies of the three Presidencies (Bengal, Madras and Bombay) were each amalgamated into Staff Corps, thus Bredin was now attached to Madras Staff Corps. The couple (or Alice Ann) obviously shunted between India and Ireland because a son and two daughters – Thomas Edward in 1873, Mary Elizabeth in 1874 and Alice Maude in 1884 – were born in India (I could not find where) while two children – Andrew Noble and Margaret Eleanor – were born in the family home in Ballymahon in 1877 and 1878 respectively. Eight years later, their youngest son, Edgar Craven, was born in Canterbury, Kent.
There was little I could find on Bredin's career but he may have fought in the Afghan war of 1878-80 with the Madras Staff Corps. By 1889 he had risen to Colonel. He retired to Canterbury, Kent, in 1891 but moved to Dublin around 1900. He and Alice lived in 4 Abbey Road, Monkstown, with their five younger children and three servants. Later, with just two children, the Bredins moved to 'Herberton' in Cross Avenue, Blackrock, the future home of Eamonn de Valera. Their eldest daughter, Mary Elizabeth, died on the symmetrical date of 19.10.1910. Her mother, Alice Ann, died two years later.
Colonel Alexander Bredin lived until 1927 and is buried in Deansgrange Cemetery, Dublin, along with his wife and eldest daughter.
The Sons
LT COL ALEXANDER BREDIN
1871-1943
Of Alexander and Alice Ann Bredin's three sons, I could find little on Thomas Edward, born in India in 1873 (unless he died after the age of 18, when he last appears in a census). The Bredins' eldest son, also Alexander, was born in Palamcottah, India, in 1871. He joined 72nd Punjabis and I imagine he fought in the 3rd Burma war of 1885-89 with the regiment's earlier life as 12th Madras Infantry. After the war, the 12th stayed on in Burma when it became the 2nd Burma Battalion. It began to recruit more men from Punjab than Madras, eventually becoming a fully-fledged Punjabi regiment – the 72nd.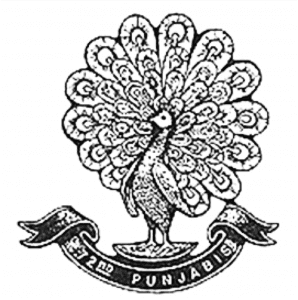 During this time, Bredin married Ethel Mary, daughter of Edward Nicholson Homan of the Public Works Department in the Indian Civil Service. Ethel was born in Ajmer in Rajpootana (Rajasthan) but the couple married in Rangoon, Burma, in 1909, and had two sons (see under THE GRANDSONS). I'm not sure where the first was born, but the second was born in Peshawar in the North West Frontier when the 72nd was stationed there. In 1911, Major Bredin appears as a Double Company Commander. Six years later, he was promoted to Lt Colonel.
He retired to Canterbury, Kent, where he died in 1943. His widow, Ethel Mary, died in Weymouth, Dorset, in 1975. The National Army Museum holds 53 photographs taken by Bredin as well as several badges belonging to him. His medal group included 1914-15 Star; British War Medal 1914-20; Allied Victory Medal 1914-19; Delhi Durbar Medal 1911; and four miniature medals associated with World War One (1914-1918).
MAJOR ANDREW NOBLE BREDIN
1877-1936
Alexander and Alice Ann Bredin's third son, ANDREW NOBLE, was born in Cloncallow, Co Longford, in 1877. He shares his name with other Bredins, including a Dean of Clonmacnoise, County Limerick. Andrew Noble Bredin was first commissioned in 1900 starting out with the 42nd Gurkha Rifles. Three years later, it was renamed 6th Gurkha Rifles. In 1915 the young Captain was wounded during operations in the Mediterranean, possibly in Gallipoli where the valour of the regiment is immortalised in 'Gurkhas Bluff'. After that, the 6th was sent to the North West Frontier where it engaged in the Third Afghan War.
Bredin took time out in 1916 to marry Emily Josephine McCammon in Peshawar. Emily had been a nurse in Charing Cross Hospital and, unusually, was older than her groom.
In 1918 the regiment found itself in Mesopotamia, resisting Turkish aggression and protecting the Baku oilfields. It concentrated on the Kurdistan area and tried to keep the road to Baghdad open. It was during these operations that Bredin's 'valuable services' were brought to the attention of the Secretary of State for War. Even better, in 1920 the Imperial Order of the Lion and Sun was conferred upon him by the Shah of Persia.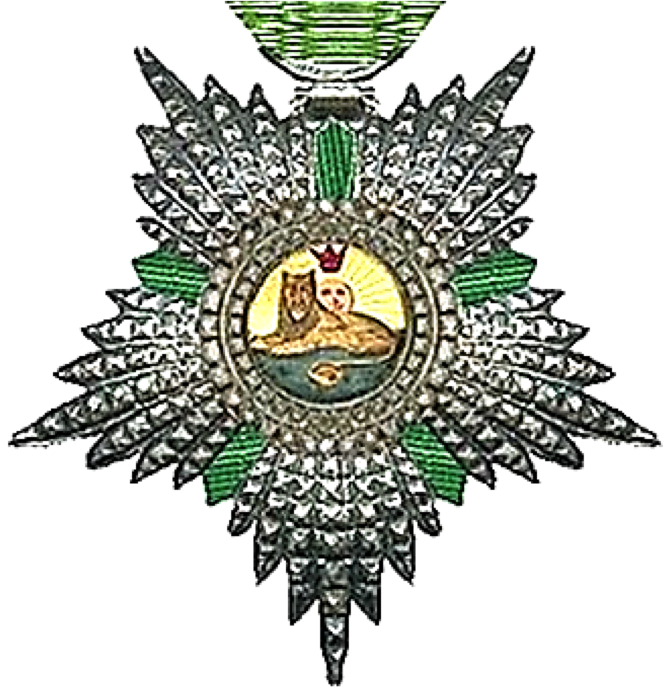 THE 6th Gurkha Rifles returned to India in October 1919 where it had a brief respite before setting out for Basra in modern day Iraq. According to some websites, Major Andrew Noble Bredin is remembered on the Basra War Memorial but the Commonwealth War Graves Commission could find no record of his burial in Iraq . . . because he was buried in Deansgrange Cemetery in 1936.
EDGAR CRAVEN BREDIN
1886-1950
Perhaps, in Ireland, the best known son of Col Alexander and Alice Ann Bredin is EDGAR CRAVEN. He was born in Canterbury in 1886. When his family moved to Dublin, he completed his education in Mountjoy School.
He had a brief flirtation with the army in 1903 when he joined the Leinster Regiment. Returning to civilian life, he served an apprenticeship with Fielding & Platt in Gloucester before returning to study at Great Southern and Western Railway's Inchicore Works. In 1916 he was appointed Assistant Works Manager at Inchicore and then promoted to Works Manager. Upon the amalgamation of the Great Southern Railways, Edgar became Chief Mechanical Engineer, progressing to General Manager in 1942.
He is best known for designing the largest steam locomotives of the day. When Great Southern Railways became part of Coras Iompair Eireann in 1945, Edgar continued to design powerful locomotives named after Gaelic queens. One of them, Maedb, is enjoying her retirement in the Ulster Folk & Transport Museum in Cultra, County Down while Edgar Craven Bredin enjoyed his retirement on the shores of Lough Corrib, where he died in 1950.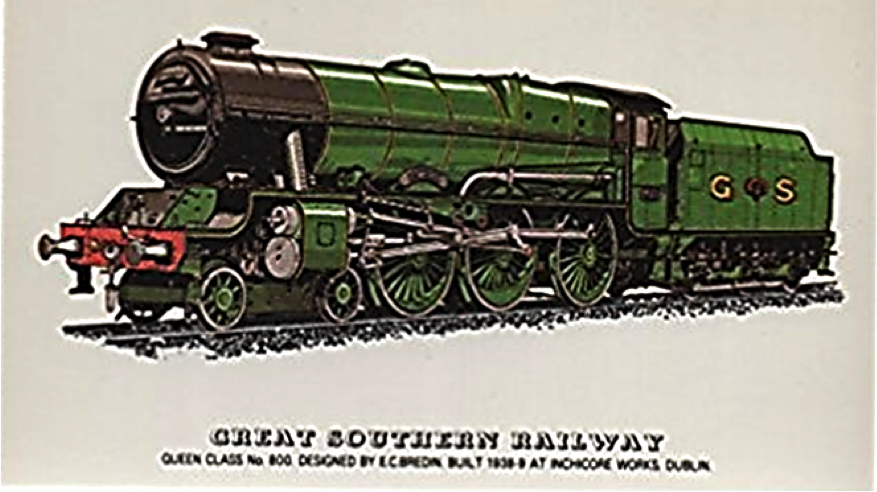 QUEEN CLASS NO 800 DESIGNED BY E C BREDIN BUILT 1938-9
---
THE GRANDSONS
BRIGADIER ALEXANDER EDWARD CRAVEN BREDIN M.C.
1911-1991
Alexander and Alice Ann Bredin's eldest son, Lt Col Alexander Bredin, had two sons – both brilliant army officers and both winners of the Military Cross. The older, ALEXANDER EDWARD CRAVEN, was born in 1911, I'm not sure where – could have been in India.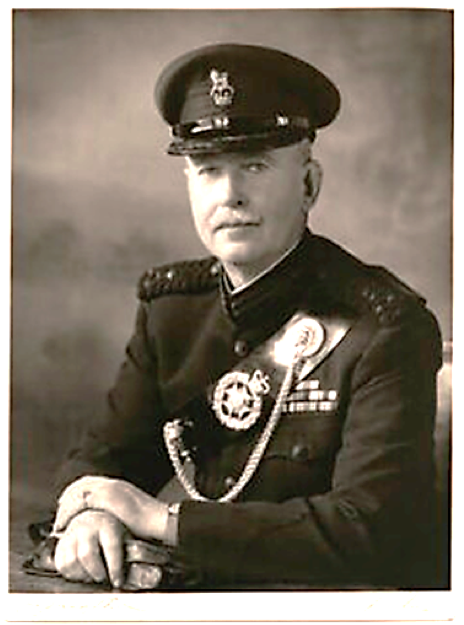 He joined the Dorsetshire Regiment and fought in WWII with the 1st battalion, recording the Normandy landings in his book 'Three Assault Landings'. His career never took him to India.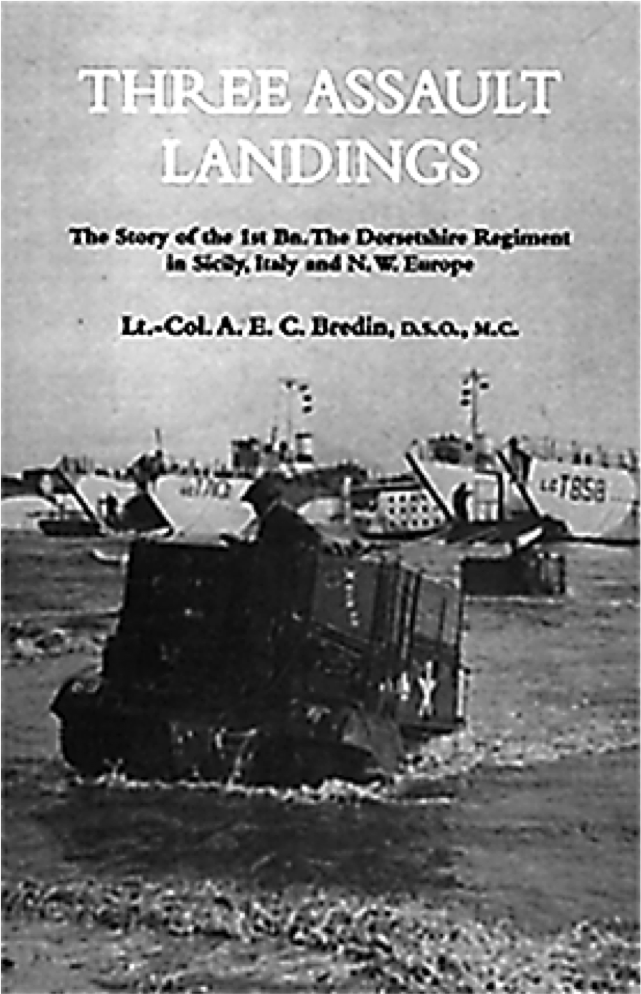 At some point he was posted to Egypt where a daughter, Ethel Pirouet, was born to him and his wife, Desiree Ida, in 1951. AEC Bredin rose to Brigadier before retiring to Honiton in Devon where he died in 1991.  Brigadier Bredin's gallantry awards included – Military Cross for active operations in North West Europe in 1944; War Medal 1939-45 (and Mention in Despatches); the 1939-45 Star; and France and Germany Star, both for operational services in the war.
MAJOR GENERAL HUMPHREY EDGAR NICHOLSON BREDIN M.C.
1916-2005
Grandson No. 2, HUMPHREY EDGAR NICHOLSON, was born in Peshawar in 1916. H.E.N. Bredin was educated in King's School, Canterbury, before going on to Military College, Sandhurst. In 1936 he was commissioned into The Royal Ulster Rifles. His career is so jam-packed with campaigns, high-powered posts and even more awards than his brother that it is too exhausting to cite them all. Besides, reams have been written about him already.
Rising to Major General, he was famously nicknamed 'Bala', either after a racehorse, or an Afghan fort. He was wounded in almost every campaign (and evacuated from Italy in 1944, due to loss of blood probably resulting from his refusal to wear a steel helmet). But he lived to condemn the horrors of war – in his characteristic forthright manner – to military powers, politicians and the media.
His marriage to Jacqueline Geare in 1947, ended in divorce in 1961. Their daughter, Corynne Jacqueline, became a Director in a London firm. In 1965, Bredin married Ann Finch Hardie and had two more daughters.
Upon his retirement, Bredin was involved with the Cancer Research campaign, as its Essex and Suffolk Appeals Secretary. Major General 'Bala' Bredin died in Salisbury in 2005. His obituary in The Telegraph claimed that his father and grandfather had served in the Green Howards (Yorkshire Regiment) but I could not link either to it. His name appears on a plaque in a chapel dedicated to the Royal Irish Rangers in St Anne's Cathedral, Belfast.