Earth Voices Whispering: An Anthology of Irish War Poetry 1914-1945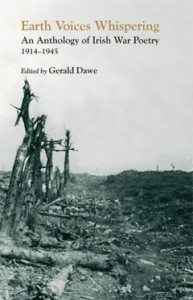 Edited by Professor Gerald Dawe of Trinity College, Dublin, this publication was supported by the Military Heritage of Ireland Trust CLG, and was launched on the 11th November 2008 in Collins Barracks, Dublin by Mr Cathal Goan, Director General of RTÉ.
It puts together in one volume, for the first time, experiences of the first and second world wars, as well as conflict in Ireland – the Easter Rising, War of Independence, the Irish Civil War – and the Spanish Civil War, in addition to various contemporary reflections on these events.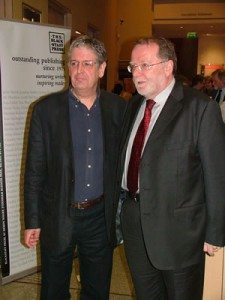 Reviews:
"What Gerald Dawe has done so movingly in this book is to bring together without any partisan judgement the poems written on all sides by Irish writers in the five – or more – wars in the thirty years of its coverage. It is an important book, full of despair, but also of a humanity that might mollify it"
Bernard O'Donoghue
'These poems are as much about our inheritance of war-memory as anything else, moving reminders of the delicate webs which draw us together with all the cheated dead.'
Clair Wills, Professor of Irish literature at Queen Mary, University of London, writing in the Irish Times
'Here is L. J. Fennessy whose poem Twenty Four wonders what fate awaits his "loveable, laughable, wild unruly crew" of army comrades, never realising that 14 of them would die with him in an accidental training mine explosion in the Glen of Imaal in 1941. But this is the joy of Dawe's expansive anthology. Here is an editor with no axe to grind, with no agenda beyond a desire that forgotten voices should be heard.' 'This remarkable and constantly surprising anthology is a perfect gift for anyone interested in Irish poetry or in how Irish writers engaged with the conflicts of the 20th century and with their legacies'.
Dermot Bolger, Irish Times
REVIEW OF "THE IRISH BRIGADES: 1685-2006"
BY COL. W.R.H. CHARLEY O.B.E.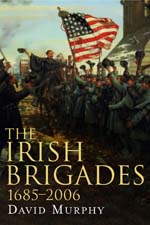 "The Irish Brigades, 1685-2006, a gazetteer of Irish military service, past and present", researched and written by Dr. David Murphy and published by Four Courts Press (2007), was commissioned by The Military Heritage of Ireland Trust CLG. Our Newsletter for December 2007 carries the announcement of the publication. The following review of the book has been submitted by Colonel W.R.H (Robin) Charley O.B.E., Honorary Treasurer of the Somme Association.
" The work the author has done to produce all the locations of Irish units in Chapter 7 is really brilliant. When I was Curator of the R.U.R. Museum about 30 years ago, it took me simply ages trying to record the locations of just the 83rd and 86th Regiments for each year and he has done it for hundreds of units! The book really is brilliant and most useful. It will be the front volume on my bookshelves from now on."
Invitation For Irish Ex Servicemen and Woemn
Patrick (Pat) Armstrong, Co-ordinator of the United Irish Ex Services Association of Australia, has written to invite any Irish ex serviceman or woman who may be in Sydney, Australia, on the 15th March or the 25th April 2009 to join them in Commemorative Marches on those dates. Pat may be contacted at:
United Irish Ex Services Association Australia,
P. O. Box 137, Darlinghurst 1300,
New South Wales, Australia.
Tel: (02) 9368 2903
Fax: (02) 9368 2908
Email: patrickarmstrong@dcs.nsw.gov.au
The Centre for Military History and Strategic Studies
presents
War and Security Studies Seminar – Spring 2009 series.
10 March
Peacekeeping and stabilisation operations:
lessons from Afghanistan and Iraq.
Dr Stuart Griffin, (King's College London and the UK Defence Academy.)
24 March
Countering the threat posed by IEDs. The challenge from recent operations.
Comdt. Ray Lane, (Ordnance School, DFTC)
7 April
The mediatisation of security policy: the implications for defence planning.
Dr Michael Mulqueen, (University of Limerick)
28 April
Neutrality: changing concepts and different practices, 1408 – 2008.
Dr Karen Devine, (Dublin City University)
All are welcome.
All sessions begin at 18:30 in Loftus Hall, South Campus, NUI Maynooth
For further details contact
Dr David Murphy, Dept of History, NUI Maynooth.
Tel. 017086827
Email. david.murphy@nuim.ie