Thomas & Eliza Little – Irish Pioneers in India and Western Australia – 1797-1877
Thomas and Eliza Little were brave, extraordinary, fascinating emigrants.  They left poverty in Ireland to rise, against the odds, to reasonable wealth and status in British India.  They then moved on to become founding fathers of the fledgling colony of Western Australia.  They are remembered today for the part they played in the business, sporting and judicial life of the new colony but, most of all, for their charity and support of poor Irish there and establishment of the Catholic Church.
Stephen Lally is the great grandnephew of Eliza (née Lally) and this has led him to research their lives and the manner in which they progressed in the Indian army.  Their whole story is now published and half of the book deals with military life and India.
It was a recent famine and declining fortunes of both their families that led Thomas, with Eliza, and three brothers to join the army of the East India Company in 1823.  Extensive records of the Indian army in the British Library in London show the recruitment details of every man and analysis of a thousand of them from 1822 to 1824 gives a picture of Irish life.   59% of all recruits into the Indian army at that time were Irish.  The Indian Artillery recruited the best men in terms of height, health and intelligence.  The minimum height was 5'6" (1.68m) and the Littles were giants at between 5'9¼" (1.76m) and 6'1¼" (1.86m).  The Infantry officially took men over 5'5" (1.65m) but up to a third were below this height as they were desperate for recruits.  The book describes other conditions, such as the terms under which a man could take a wife with him and why a man should choose the Indian Army over His Majesty's Army.
Two hundred recruits and 8 wives were crammed in an East Indiaman for the four month voyage to Bengal.  The ship's log and relevant reports and diaries make it clear that the conditions were dreadful.  Once ashore the family arrived at a time when the welfare of the troops was beginning to be taken more seriously and they benefitted from this but their lives were greatly affected by the very high death rate and shortage of women.  Thomas' and Eliza's three brothers all died before their thirtieth birthdays and there was an attitude of fatalistic inevitability about death because nothing could be done to prevent it.  Women were considered an encumbrance to military life and an ordinary soldier was seldom permitted to marry.  All three brothers married at about the same time as they were promoted but their marriages were brief.
Thomas, of course, took a wife with him and this may have motivated him to push for promotion early on; within a year of arriving.  This would have got Eliza out of the barracks which lacked any privacy or decency for a woman.  He moved to work for the Public Works Department.  The Indian Civil Service was made up of British superior officers and the lower jobs were taken by Indians.  But they needed British to fill the middle management roles and they took these men from the army – much to the annoyance of army officers who saw their best men being poached.
Thomas, over ten years, rose within these ranks in a way he could not have done if he had stayed a soldier.  He probably took advantage, as was accepted, of taking jobs on the side.   He rose to mix in business with some of the most important men in Bengal and it was one of these men who entrusted Thomas to go to Australia to establish, on his behalf, a business breeding horses for the Indian market.
This only touches on the detail of the lives of Indian soldiers as described in the new book.  Thomas and Eliza Little  –  Irish Pioneers in India and Western Australia  –  1797-1877 is a paperback with 185 pages and 70 illustrations which tells the whole story of the full and exciting lives of this intrepid couple.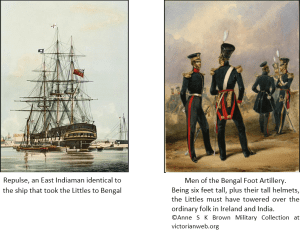 Thomas & Eliza Little – Irish Pioneers in India and Western Australia – 1797-1877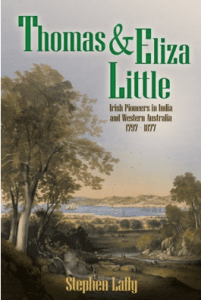 This book is a biography of two fascinating and successful emigrants who prospered in the army of the Honourable East India Company in the 1820s and 1830s.  As such it describes life of ordinary soldiers in Bengal with particular emphasis on Irish troops.
With extensive reference to Indian military archives in the British Library in London, contemporary diaries and reports it details recruitment in Ireland, the voyage and life in India.  Much of a soldier's life was routine but taken up by interminable marches of up to 800 miles at about 12 miles a day.  Their personal lives were shaped by the shortage of women and very high death rate, fewer than 10% ever reaching pensionable age after 18 years.  No ordinary soldier could rise to officer rank but some, like Thomas Little, manged to use the system to find success in other areas.   A picture of life, birth and death, and occasional marriage, is described in detail with interesting statistics to prove the points. The book also paints a broader background picture of life in India, it's customs, dangers and delights of the Irish military family which crossed boundaries of religion and class.
The author is the great grand nephew of Eliza Little so the book uncovers the personal lives of this family as well as new information about military life of ordinary soldiers in India at this time.
It is available on amazon at £14.95 / €17.50