Private James Duffy VC – 26 November 2016
Private Ceremony
On 26 November 2016, Donegal County Museum, in Association with the Royal Inniskillings Fusiliers Museum, hosted a private ceremony for the family of Private James Duffy VC in Letterkenny.
The private ceremony included a Commemorative Mass celebrated by Rev Fr Alan Ward, 28 Infantry Battalion, Finner Camp.  Like Private Duffy VC, Fr Ward's grandfather was also a stretcher-bearer in the First World War. Private Duffy's daughter Nellie O'Donnell and extended family, including his grand-daughters Veronica and Loraine Murray, and his great-grandson James Duffy, were in attendance.  Evelyn Gallagher, grand-daughter of Private Duffy VC, recited a poem written in memory of her brave grandfather. Commandant John Anderson 28 Infantry Battalion represented the Defence Forces and Colonel Declan O'Carroll (Retd) Fort Dunree Museum also attended.
Mr. Neil Armstrong, Curator of the Royal Inniskilling Fusiliers Museum in Enniskillen, was in attendance and kindly facilitated the loan of Private Duffy's medal collection including his Victoria Cross.
View MHIT's Photographs of Ceremony
Private James Duffy VC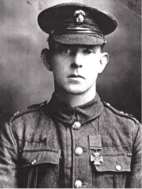 James Duffy was born on 17 November, 1889 at Thorr, Crolly, Gweedore, County Donegal.  He was brought up in Letterkenny.  At the age of 16, he emigrated to Glasgow where he was employed in the shipyards.  On 1 December 1914, he enlisted in the British Army and was posted to the 6th Battalion, Royal Inniskilling Fusiliers, "The Skins".
At the outbreak of the First World War in August 1914, the 1st Battalion Royal Inniskilling Fusiliers was based in India and the 2nd Battalion in Dover deployed to France with the 4th Division which was amongst those to be heavily engaged at the Battle of Le Cateau. The 1st  Battalion was part of the 29th  Division which landed at Helles on the Gallipoli peninsula in April 1915, and later was deployed on the Western Front.  Nine new battalions, including Private Duffy's 6th Battalion, were raised during the war.  All battalions participated in battles in France and Flanders between 1915 and 1918, while two of them saw service in Gallipoli, Macedonia and Palestine.
Serving with the 6th Battalion, Private Duffy was initially deployed to Gallipoli, therafter to Egypt.  In September 1917, his unit deployed to Palestine, with the 10 Irish Division as part of General Allenby's Middle East Army.
On 27 December 1917, at 28 years, while serving as a stretcher-bearer at Kereina Peak, in the Judean Hills, North West of Jerusalem, Private Duffy was awarded the Victoria Cross for bravery.
The Victoria Cross is the highest and most prestigious award for gallantry in the face of the enemy that can be awarded to British and Commonwealth forces.  Private Duffy VC was one of eight personnel of the Royal Inniskilling Fusiliers awarded the Victoria Cross during the First World War.
His medal citation, published in the London Gazette on 27 February 1918, reads: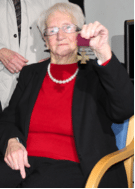 "For most conspicuous bravery displayed whilst his company was holding a very exposed position Private Duffy and another stretcher bearer went out to bring in a seriously wounded comrade; when the other stretcher bearer was wounded he returned to get another man; when again going forward the relief stretcher bearer was killed Private Duffy then went forward alone and under heavy fire succeeded in bringing both wounded men under cover and attended to their injuries. His gallantry undoubtedly saved both men's lives."
King George V presented Private Duffy with his Victoria Cross on 25 July 1918 at Buckingham Palace.  His Victoria Cross and medals are displayed at the Inniskilling Museum, Enniskillen Castle.
Private Duffy was also awarded the 1914 Star, the British War medal, the British Victory medal and the 1937 King George VI Coronation medal. Following the First World War, Private Duffy VC returned to Letterkenny.  He married Maggie Hegarty in 1919, and raised a family of eight children.   In July 1966, during a Somme Remembrance Ceremony in Belfast, Private Duffy VC was introduced to Queen Elizabeth II and the Duke of Edinburgh, (vide Pathé News, file 1787.19, canister 66/54).
Private Duffy VC died on 7 April, 1969, and was buried with full military honours, organised by the Royal Inniskilling Fusiliers Association, in Conwal Cemetery, Letterkenny, County Donegal.
Accommodation Block – Catterick Garrison – 2004. In 2004, a new €22 million accommodation block, named in honour of Private James Duffy VC was opened in Catterick Infantry Training Grounds, Yorkshire, England.  His daughter Nellie O'Donnell and grand-daughter Evelyn Gallagher attended the opening.
Commemorative Stone Bench – Letterkenny – 2007
Ninety years after his service in Palestine, on 5th July 2007, Letterkenny Town Council paid tribute to Private Duffy VC, with the erection of a stone bench in his memory in the Bernard McGlinchey Town Park, the work of local sculptor, Redmond Herrity.
Reported in the Derry Journal, "The family are all gone and I only wish they could have lived to see it,", said Nellie whose brother, Hugo, was laid to rest in 1997 in the same grave that occupied the remains of her father Private Duffy VC.
The Town Mayor Cllr Ciaran Brogan said, inter alia, "that it was important that the Council had finally recognized the heroism of James Duffy, even if it had taken 90 years to do so".  Welcoming 83 year old Nellie O'Donnell and her daughter Evelyn Gallagher, Cllr Brogan "highlighted the role of people like former Deputy Paddy Harte who had done so much to help commemorate those who had perished in the First World War and to Billy Patterson who had continually promoted the cause for a memorial honour for Private Duffy VC"
Billy Patterson, who wrote the inscription for the commemorative seat, said "the family had been waiting a long time and he was glad to have put the shoulder to the wheel to help move it along. It's indicative of the new spirit that exists in Ireland,"
Victoria Cross Commemorative Stones
As part of the Decade of Centenaries, the Commonwealth War Graves Commission, with the support of the Irish Government, have commissioned Commemorative Stones for all 24 recipients of the Victoria Cross during the First World War who were born in the Republic of Ireland. The memorial programme associated with the Commemorative Stones includes a commemoration taking place on the anniversary of the historic action for which each Victory Cross was awarded.  In conjunction with the Glasnevin Trust, the 24 Commemorative Stones will eventually be part of a unified permanent display at the Cross of Sacrifice in Glasnevin Cemetery, Dublin.
Donegal County Museum – High Road, Letterkenny
Donegal County Museum is based in a fine old stone building, which was once part of Letterkenny Workhouse, which opened in 1845.  The Museum houses a substantial collection of artifacts relating to the history and heritage of County Donegal. The first floor exhibition tells the story of Donegal from Prehistory to the Twentieth Century. Temporary exhibitions covering a wide range of topics are held in the ground floor gallery throughout the year, with something to suit all ages and interests. An event and education programme runs throughout the year on a wide variety of themes and topics.
Phone: 00 353 (0)74 912 4613
Email: museum@donegalcoco.ie
Facebook:  Donegal County Museum
Twitter@Donegalcomuseum