Regretfully, I am to advise of the death, after a short illness, of our esteemed colleague Major-General David Nial O'Morchoe CB, CBE, KLJ, Hereditary Chief and Prince of the Ó Murchadha, at his residence, Oulartleigh House, Tara Hill, Gorey, Co. Wexford, on Friday, 22 November, 2019.
An honourable, courteous and dedicated professional, The O'Morchoe will be greatly missed and fondly remembered by many, especially his family.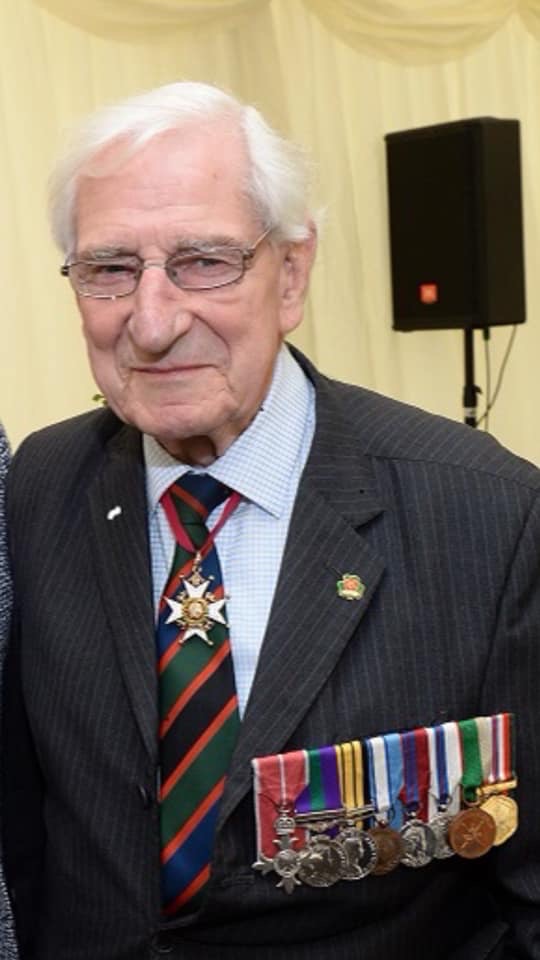 Major-General O'Morchoe was a founder member of The Military Heritage of Ireland Trust (CLG). Since his initial election in 2000, he remained an active and highly respected member of the Board of Directors. Major-General O'Morchoe's experiences, service, and expertise were instrumental in shaping the Trust's ethos, vision, mission, objectives and membership. His enduring legacy ensures a cross border, non-denominational and non-political dimension that fully understands and appreciates the role of the Irish Soldier in Ireland's distinctive and shared military heritage.
Born in May 1928 in Wexford, Major-General O'Morchoe was educated in St Columba's College Dublin and the Royal Military Academy Sandhurst. In 1946, he enlisted in the British Army and was commissioned into the Royal Irish Fusiliers. His distinguished military service included tours of duty in the Suez Canal Zone, Aqaba, Gibraltar, and Germany. His command appointments included 3 Battalion Royal Irish Rangers and 1 Battalion Royal Irish Fusiliers. He was an instructor in the Command and Staff College Camberly and served with the United Nations Peacekeeping Force in Cyprus. Prior to his retirement in 1979, he was Commander-in-Chief of the Royal Army of the Sultan of Oman.
Following his retirement, he and his family returned to Tara Hill. Major-General O'Morchoe retained a keen interest in the profession of arms holding substantial appointments including President of the Royal British Legion (RoI), Chairman of the Irish War Memorial Gardens Trust, President of the Leinster Regiment Association (Disbanded Regiment), and President of the Tipperary Remembrance Trust.
In 2011, Major-General O'Morchoe guided HM Queen Elizabeth II through the grounds of the Irish National War Memorial Gardens at Islandbridge during her State Visit to Ireland.
The 2014 Parnell Summer School was formally launched by Major-General O'Morchoe. During the course of his key-note address, he stated, inter alia,
"It was well known that those who had returned to Ireland after the First World War, came to a difficult and unwelcoming Ireland and that the then political atmosphere was for many years one of disapproval of those who had taken part in it, to the degree that they had been swept into oblivion and that official remembrance of those who did not survive was ignored."

"From a background of 80 or so years of no acknowledgment or remembrance, the ceasefires leading up to and including the signing of Good Friday Agreement in 1998, when significant reconciliation efforts had been encouraged by the governments involved, led to the development of a greater and significant understanding. A positive attitude has spread across the island which encouraged the remembrance of the dead of the First World War."
Major-General O'Morchoe was awarded the Order of the British Empire in 2007 "for services to British ex-servicemen and women in Ireland". In September 2010, he was invested as a Knight in the Military and Hospitaller Order of St Lazarus of Jerusalem. Major-General O'Morchoe was also was awarded the Order of the Bath.
The thoughts of all members of The Military Heritage of Ireland Trust CLG are with his wife Margaret, sons Dermot and Kevin, daughter Maureen, and remembering the late Deidre, coupled with his extended family, neighbours and friends, and former colleagues in the Royal British Legion (RoI Branch), The Irish National War Memorial Trust, The Tipperary Remembrance Trust, and The Military Heritage of Ireland Trust (CLG).
A Family Man, Soldier, Peacekeeper, Diplomat and Bridge-Builder, may The O'Morchoe Rest in Peace.
Service of Reception at Kiltennel Parish Church on Sunday, 24 November at 1800hrs. Funeral service on Monday, 25 November at 1200hrs in Christ Church, Gorey followed by Private Cremation. House Strictly Private Please.
At Rest
All members of The Military Heritage of Ireland Trust CLG, will join with me in extending our sincere condolences to Major-General David O'Morchoe's family, his relatives, former colleagues and friends.
Please avail of the following link for Photographs of The O'Morchoe, kindly provided by Patrick Hugh Lynch
Ar Dheis Dé go raibh a anam Dhílis.
Paul Fry
Brigadier-General Paul Fry (Retired)
Chairman
The Military Heritage of Ireland Trust CLG
Major-General David O'Morchoe RIP – Download the Statement in PDF >>