RAMC Corps Sunday takes place each year on the anniversary of the formation of the Royal Army Medical Corps which occurred in 1898.
It is marked by serving and retired medical personnel at church services when they remember their fallen comrades and those for whom they cared, and they re-dedicate themselves to serve faithfully in adversity and to live up to the Corps motto, In Ardius Fidelis – Faithful in Adversity. This year, in Dublin, the annual event was marked on Sunday 30 June, by kind permission of the Dean and Chapter, in the National Cathedral and Collegiate Church of St Patrick. The Commemoration Service was coordinated by Brigadier John Graham (Retd) Royal Army Medical Corps and an active member of the Military Heritage of Ireland Trust.
The Choral Evensong was led by the Dean, the Very Revd William Morton, and sung by the Cathedral Choir (Consort & Men's voices). The First Lesson was read by Dr Antonia Lehane, President of the Association of Medical and Dental Graduates, RCSI. Captain David Cairns, Chairman RAMC Association (Ulster Branch) read the Second Lesson. The Sermon was preached by The Reverend S. McVeigh, M.B.E.
Following the Choral Evensong, a Commemorative Service was conducted at the RAMC Memorial in the North Transept.
Brigadier John Graham recited The Exhoration and The Kohima Dedication.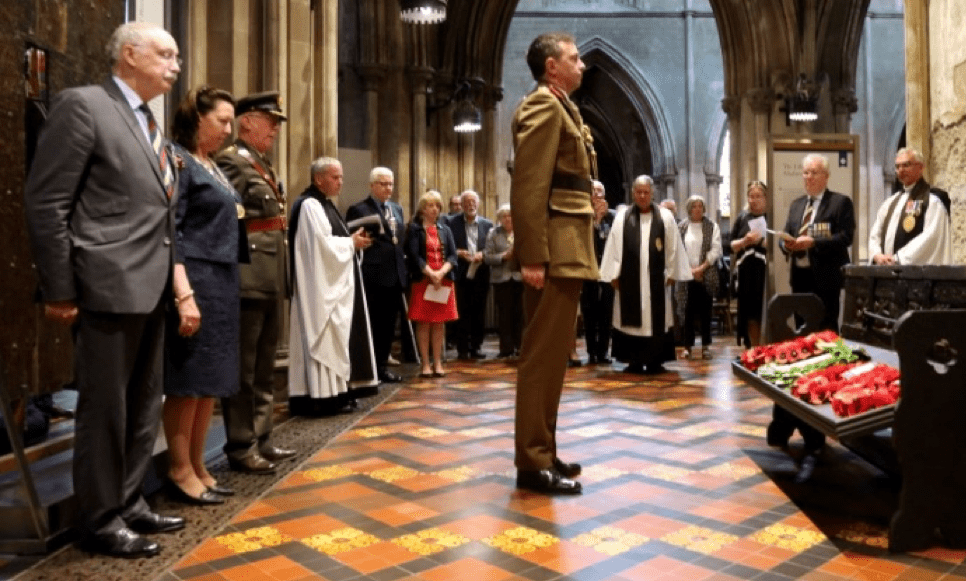 Wreaths were laid by Major-General David Jolliffe CBFRCP, RAMC, Dr Antonia Lehane, RCSI, Colonel Gerry Kerr, Director Defence Forces Medical Corps and Colonel UK Defence Attaché.
Link to Flicker Album –  RAMC Memorial St Patrick's Cathedral Dublin >>
The Irish RAMC Memorial is located in the North Transept of St Patrick's Cathedral and is identical to the one in St George's Chaple, in Westminster Abbey. Personnel of the RAMC who fell in the First World War are recorded in the Golden book in Westminster Abbey. The inscription reads:
ROYAL ARMY MEDICAL CORPS
In memory of 743 Officers and 6130 Warrant Officers, Non-Commissioned Officers and Men who fell in the Great War, and whose names are enrolled in a Golden Book placed in the Chapter House.
"They loved not their lives unto the death"
RAMC Association
The Royal Army Medical Corps Association was established in 1925 to further the camaraderie of the First World War veterans, with Sir William Leishman being the first President.