The Royal British Legion, Republic of Ireland District, hosted its Annual Ceremony of Remembrance and Wreath Laying at the Irish National War Memorial Gardens, Islandbridge, Dublin, on Saturday 08 July 2016. The event commemorates all those who lost their lives in the World Wars, in particular the estimated 60,000 Irish men and women from the island of Ireland who served and died in both wars.

Designed by the memorialist Sir Edwin Lutyens, the Memorial Gardens are dedicated to the memory of Irish soldiers who died in the 1914 – 1918 war. The names of all the soldiers are contained in the beautifully illustrated Harry Clarke manuscripts in the granite book rooms in the gardens, Lieutenant-Colonel Ken Martin (Retd) Chairman of the Royal British Legion gave the Welcoming Address.
The ceremony was held in the presence of the Councillor Mícheál MacDonncha Lord Mayor of Dublin, Councillor Nuala McAllister Lord Mayor of Belfast, Councillor Tony Fitzgerald PC Lord Mayor of Cork, Minister Paul Keogh T.D. Minister of State with responsibility for Defence, members of the Oireachtas, the Diplomatic Corps, representatives of the Defence Forces, representatives of Regimental Associations and Veterans Associations, and a considerable number of relatives of those who served in World War 1 and the Second World War.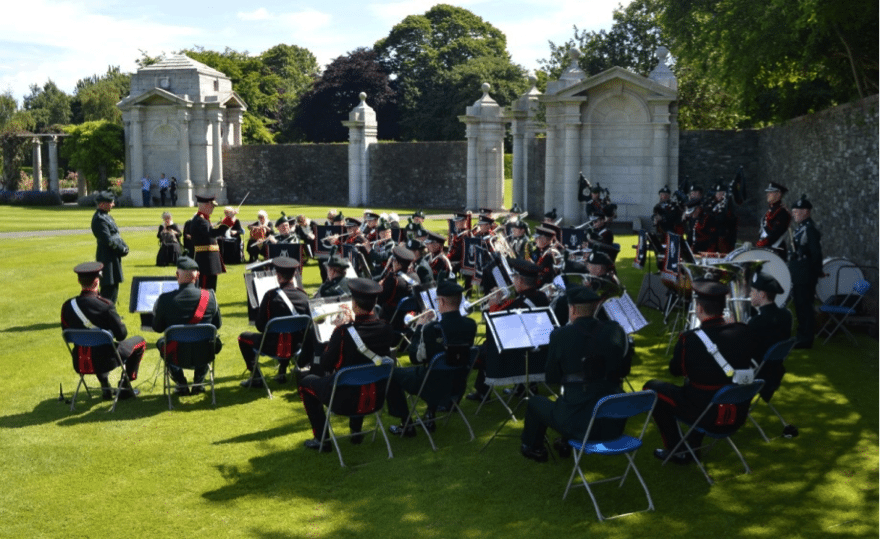 (Photo: Patrick Hugh Lynch)
The Military Heritage of Ireland Trust was represented by its Chairman Brigadier-General Paul Pakenham (Retd) and Lieutenant-Colonel Eamonn Fogarty (Retd)
Royal British Legion Branches from Ireland and Branches from Northern Ireland, along with other Regimental Associations and Veterans Associations paraded their Standards at the ceremony.
The Reverend Fr Seamus Madigan Head Chaplain to the Defence Forces and The Venerable Christopher Long MBE Archdeacon of Ferns and Chaplain to the Royal British Legion were the Officiating Clergy.
Under the direction of Lieutenant-Colonel Martin, the Lords Mayor, Minister, Ambassadors, Defence Forces, Royal Irish Regiment, Regimental and Veterans Associations, civil organisations and relatives laid wreaths at the War Stone.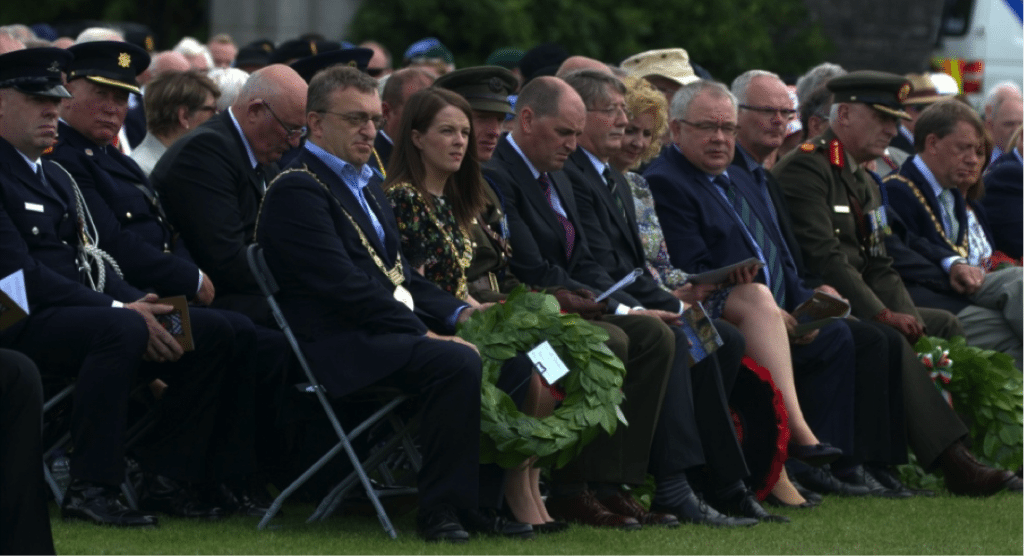 Rosemary Yore, Chair of the Francis Ledwidge Museum, Slane, recited "A Soldiers Grave" by Francis Ledwidge (1887 – 1917):
Then in the lull of midnight, gentle arms
Lifted him slowly down the slopes of death
Lest he should hear again the mad alarms
Of battle, dying moans, and painful breath.
And where the earth was soft for flowers we made
A grave for him that he might better rest
So, Spring shall come and leave it sweet arrayed
And there the lark shall turn her dewy nest.
Music, including the Last Post, the Rouse and the National Anthem, was provided by the Army Number 1 Band and Piper from the School of Music under the direction of Captain Carroll, with the Band of the 2 Battalion and Piper from the Royal Irish Regiment under its Bandmaster WO1 Richard Douglas, and the voices of the Tramore Ladies Choir under the direction of Paula Gordon.
The Exhortation and The Dedication were delivered by Major-General David Jolliffe CB, National Trustee, the Royal British Legion.
When you go home, tell them of us and say,

For your tomorrow, we gave our today"

(Kohima)
View the MHIT Image Gallery on Flickr >>