Throughout the months of July and August, a Ceremonial Military Guard paraded at noon on Saturdays at the site of the National Memorial to Members of the Defence Forces in Merrion Square, Dublin,  Units from the three components of the Defence Forces and across the Army, Air Corps and Naval Service, supported by instrumentalists form the School of Music participated in this ceremony in solemn remembrance of their fallen comrades.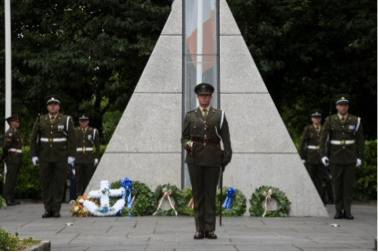 The National Memorial was unveiled by President Mary McAleese in November 2008 and is the National Memorial to members of the Defence Forces, Óglaigh na hÉireann, who died in the service of the State.  It is a place of contemplation and remembrance, where families, relatives and members of the public can reflect on the sacrifice our fallen comrades have made for Ireland.
The pyramid shape of the memorial, which was designed by Brian King, captures references to burial and is a standing testament to the dead. It also reflects the shape of a military tent.
Within the pyramid, four bronze figures, representing all elements of the Defence Forces, stand guard over the eternal flame that emanates from the badge of the Defence Forces. The flame burns in perpetual memory of those members of the Defence Forces who have made the ultimate sacrifice.