LOWRY and WINTLE
In loving memory of
Arabella, widow of Major Octavius Lowry, late 86th regiment of Galway Militia. Died aged 82.
Florence Emily Joice, widow of Colonel Fitzhardinge Wintle, 87th Punjabis I.A. Passed over 14th June 1949.
Eileen L V Wintle of Ballygarth Castle. 18 April 1893-18 November 1979
This grave holds three generations of women, two of whom were married to officers in the Indian Army.
MAJOR OCTAVIUS LOWRY
1824-1884
James Jones, a Captain in the Sligo Militia, married Elizabeth Johnston from Armagh. They lived in Mount Edward, Sligo. The couple gave two of their daughters to the Lowry family of Rockdale House near Cookstown, Co Tyrone. The elder, Dorinda, married the Lowry heir, James Corry. The younger, Arabella Edith, born in 1824, married a younger son, Octavius.
When Lowry met Corry, they became the Lowry Corrys – Earls of Belmore, County Fermanagh. Naturally, they shared the same Christian names, so disentangling the Lowrys from the Corrys took some time.
Octavius Lowry was born on Christmas Day 1824, one of eleven children born to James Lowry and his first wife, Harriet Pepper. His mother came from a Norman family that had owned Ballygarth Castle on the banks of the River Nanny in Julianstown, Co Meath, since 1660. It is immortalised in the Boyne legend 'The White Horse of the Peppers'. In 2009, planning permission was sought to convert the castle into a multi-million euro hotel and golf course.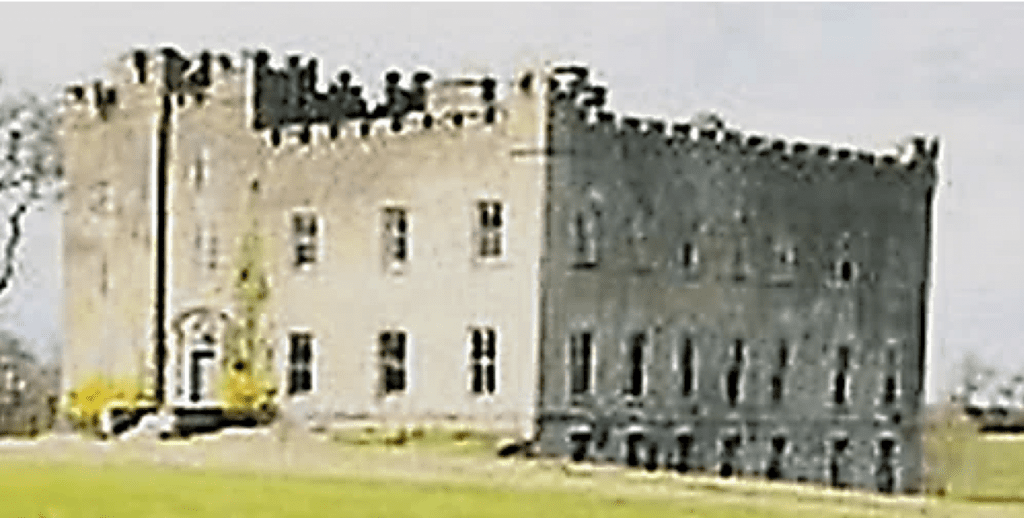 Lowry was commissioned in the 96th Regiment of Foot and the young Ensign sailed for New South Wales, possibly on a convict ship with a detachment provided by the regiment. Three years' later, the 96th embarked for India. Lowry was appointed ADC to His Excellency Lieutenant General Sir Richard Armstrong, Commander-in-Chief of the Madras Army.
In 1851, Lowry married Arabella Edith Jones in Madras Cathedral. She was the daughter of the above-named James Jones of Mount Edward, Sligo. I could not find why Arabella was in Madras, unless she came out to India specifically to marry.
Lowry ended his military career as Adjutant of the Auxilliary Forces (Galway Militia). He died in 1884 in Eagle Lodge, Barna, Co Galway, where he had lived with Arabella. She may have moved to Dublin after that because when she died in 1906 she was buried in Deansgrange.
Of the Lowrys' four children, the first, Thomas Pepper Ernest, was born in 1852 in Madras. He rose to Major in 1st West India Regiment. Upon retirement, he settled in Banba House, Novara Avenue, Bray, Co Wicklow, where he died in 1914.
The second, William Hay Talbot, was born in 1854, also in India. He joined the Canadian Mounted Police but was killed in action at Battleford in 1885.
His sister, Edith Julia Vivian, was born four years after him in England. She married Lt Col William James Knowles Dobbin of the Indian Army, who had a dazzling military career and I may write about him separately. In 1929, she was granted the name and arms of Pepper as, after the death of Colonel Charles Pepper in 1927, succession was through the female line.
LT COLONEL FITZHARDINGE WINTLE
1862-1916
The Lowrys' youngest child, Florence Emily Joice, was born in 1862 in Galway. She married FitzHardinge Wintle in 1892 who was born in India, as were his parents. His father was Major General Edmund Henry Cullen Wintle of the Bengal Army and his mother, Amelia Constance Eveline Berkley, came from a family with a long history in India and Amelia was born there.
FitzHardinge (who appears as Fitz H Wintle in most army records) was the last of the Wintles' nine children, born in Dum Dum, a suburb of Calcutta which gave its name to the bullet manufactured in its ammunition factory. He attended Rugby School and passed out of the Royal Military College, Sandhurst, in 1884. Starting out in the Border Regiment, he was initially appointed to the Indian Staff Corps and, given his qualifications in Musketry, Persian, Pashtu, Russian and Punjabi, he moved between several regiments.
Florence and FitzHardinge married in the hill station of Naini Tal in north India. Their three children were born in quick succession in what is now Pakistan: 1893 – Eileen Vivian in Rawalpindi; 1894 – Cecil Ernest in cool hills of Muree in the northwest but he only survived a year; 1896 – Armar Lowry Corry in Peshawar.
From 1895 to 1898, Wintle was embroiled in the brutal wars with Afghan tribes on the North West Frontier. He was sent to China as Staff Officer in 1904 where he witnessed the bombardment of Port Arthur (now Lüshunkou). His report of the bombardment received the gratitude of the British Minister in China and the General Officer Commanding. After serving as Double Company Commander in 84th Punjabis, Wintle took command of the 87th Punjabis in 1910. Upon the outbreak of WW1, Wintle was stationed in Tank on the Afghan border.
87th PUNJABIS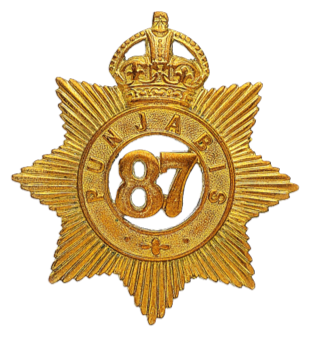 87th Punjabis started life in 1798 as part of the Madras Native Infantry (although Punjab is nowhere near Madras).
The regiment fought in the Maratha War,
the Indian Mutiny  of 1857 –   when it re-captured Lucknow –
and the 2nd Anglo-Burmese  War of 1885.
Upon the outbreak of WWI, although the 87th was fighting
Afghans on the NW Frontier, it managed to send reinforcements
to other regiments.  In 1917, It left for Mesopotamia to serve
on the Tigris Defences.
In 1922, the 87th became the 5th Battalion of 2nd Punjabis.
After the Partition of India, the 2nd Punjabis was allocated to the Indian Army.
Florence returned to Ireland and was living in her brother's home, Banba House, in Bray, Co Wicklow. She tried to do her bit for the war effort by training with British Red Cross Society & Order of St. John and became Head of Sewing Room. For this, she was awarded a Voluntary Worker badge, two bars and two stars.
Sadly, back in India, her husband's mental health began to deteriorate but he refused to retire in 1915 on account of the war. Eventually, he agreed to medical furlough in 1916. He only got as far as Bombay, before succumbing to his demons by cutting his throat in Byculla Club, which had been turned into a hospital during the war. The inquest returned a verdict of 'Temporary Insanity'.
He was buried in Sewri Cemetery, Bombay. Although, strictly speaking, he did not die in battle, Wintle was an indirect casualty of the Great War. His remains were later removed to the CWGC Cemetery in Kirkee, outside Poona in Maharashtra. I visited the site in January 2019 and fond it beautifully serene – the prefect resting place for a tortured soul.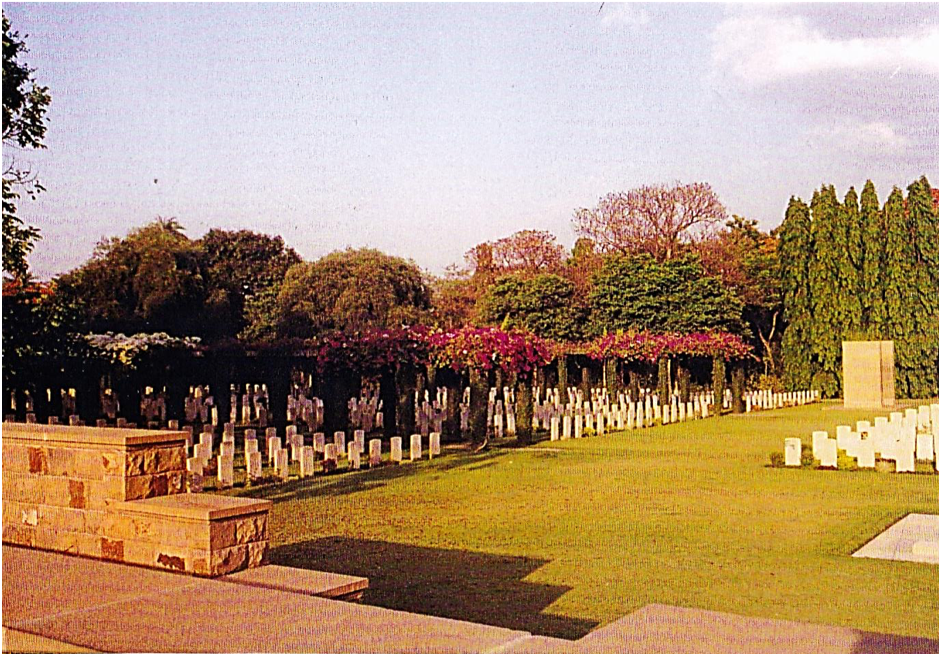 Florence Edith died in 1945 and was buried in her mother's grave in Deansgrange.
The Wintles' eldest child, Elieen Vivian, assumed the name Pepper in order to retain the Arms of the Peppers of Ballygarth Castle upon the death of her aunt, Edith Julia, in 1953.  She died, unmarried, in 1977 and is named as 'Eileen V Fitzhardinge Wintle of Ballygarth Castle' on the grave of her mother and grandmother.
LEIUTENANT ARMAR LOWRY CORRY WINTLE
1893-1917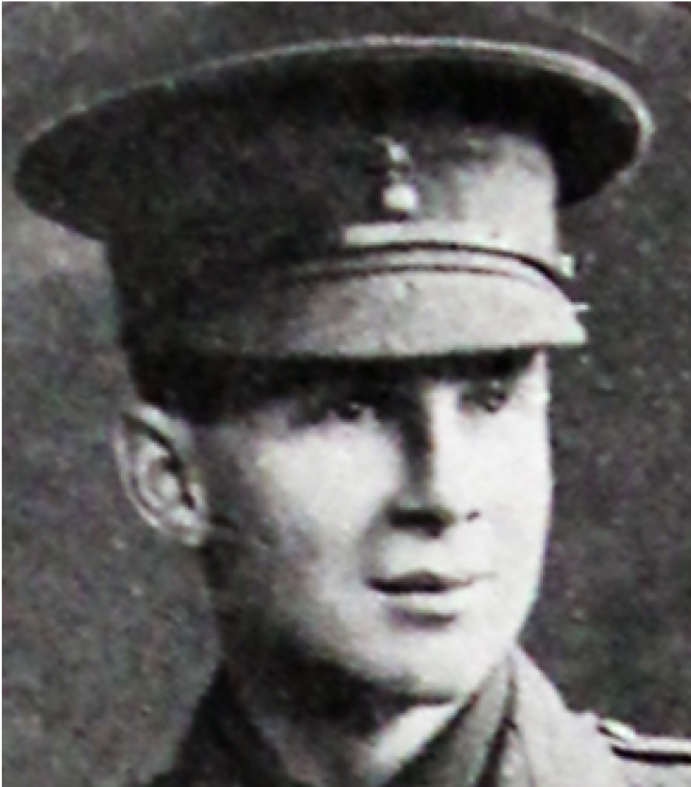 The Wintles' last child was Armar Lowry Corry, born in 1896 in Peshawar. He was educated in Newton Abbot, Devon, and progressed to Army School in Holyport, Maidenhead, moving on to Imperial Service College in Windsor.
When war broke out, Armar, already in the Officers' Training Corps, applied for a commission and was accepted by the 9th Royal Inniskilling Fusiliers (Ulster Division). He was sent to France and was wounded on St Patrick's Day 1916. After spending almost a year recovering, he returned to the battlefield but was wounded again – twice. Exposed to machine-gun fire, he preferred to lie on the field until dark so as not to jeopardise the soldiers who would carry him to safety. According to his Brigadier, Armar 'showed the greatest gallantry and courage. He was given an impossible task; he and his men did all that men could do. He has added new laurels to a name well-known for soldierly deeds'.
Lieutenant Armar Lowry Corry Wintle died of his wounds in August 1917, seventeen months after his father and just short of his twenty-first birthday. He was buried in Wimereux Communal Cemetery, Pas de Calais, France and was recommended for the Military Cross.
Both Armar and his father, FitzHardinge Wintle, are named on the Woodenbridge WW1 memorial in Co Wicklow, on the Bray pillar.