In recent weeks, a potentially very significant 18-pounder Mark II field gun arrived back in Ireland having left for America in 1959 as part of a consignment of surplus Irish military equipment. This particular gun was manufactured in England during the First World War for the Royal Artillery may very well have later played a significant role in Irish history.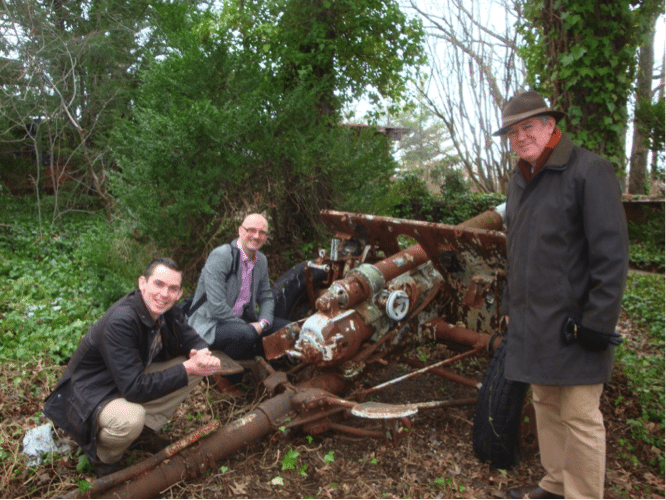 The gun was on display for many years in at the Lazy Susan Dinner Theatre, Woodbridge, Virginia 22194-0346. In 2015, Ken Christmas Smith of the US Army Museum, discovered that the gun was for sale and subsequently facilitated the interface between the gun's owner Mr Glenn Gates and Commandant Lar Joye of the National Museum of Ireland, resulting in the owner kindly donating the gun to the Irish Defence Forces.
On 1 February, 2016, Colonel Conor Fitzsimons Military Advisor Irish Permanent Representation (UNNY), Comdt Stephen MacEoin OIC Military Archives, and Commandant Lar Joye visited the location of the gun in West Virginia and negotiated its return to Ireland.
Photographs include one of Lieutenant-Colonel Paul Carey collecting the Civil War 18 Pounder from Mr Glenn Gates in West Virginia. The Club acknowledges Commandant Lar Joye's commendable initiative in securing this gun or the Defence Forces. Commandant Joye is Curator in the National Museum Collins Barracks and the Club's Secretary.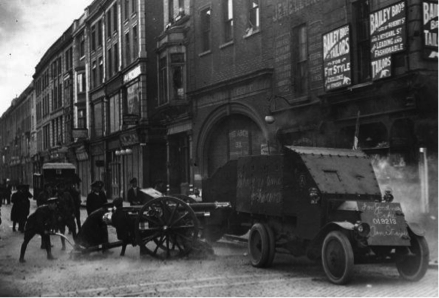 The above photograph shows an 18 Pounder in action during the Civil War. Six 18-pounder guns (two Mark Is and four Mark IIs) were used in the Civil War. Between 1926 and 1941, the Artillery Corps acquired additional Mark I and Mark II, as well as the more modern Mark IV, 18-pounder guns from England. Research continues to identify the serial numbers of the original 18pdrs given to Irish Army in 1922 and the particular guns which fired on the Four Courts.