As a member of the Military Heritage of Ireland Trust CLG, Lieutenant-Colonel Dan Harvey has made a tangible contribution in fostering an enhanced awareness of the story of the Irish Soldier in the Battle of Waterloo and in the Anglo-Zulu war.
Following extensive research, his commendable book, A Bloody Day – The Irish at Waterloo brings the actions of the Irish at Waterloo into focus, unravelling the true import of their deeds on Sunday, 18 June 1815. This publication was launched on the bicentenary anniversary on 18 June 2015.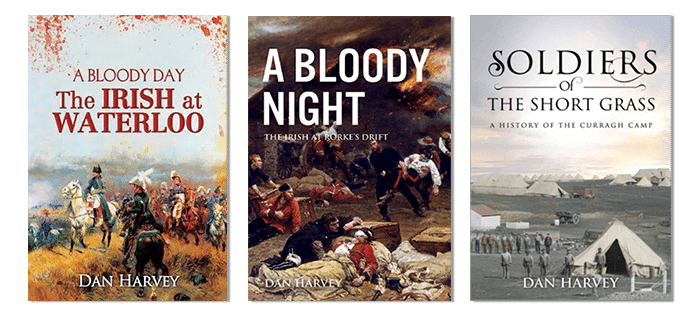 His publication A Bloody Night – The Irish at Rorke's Drift", published on 05 June 2017, documents the struggle of the Irishmen who made up the British garrison that defended itself against the Zulu's headlong, deadly onslaught at the Battle of Rorke's Drift, a defining clash in the 1879 Anglo-Zulu war.
Lieutenant-Colonel Dan Harvey is the author of Soldiers of the Short Grass: A History of the Curragh Camp (Merrion Press, 2016). He has also written about major incidents involving Irish Defence Forces personnel on active peace support operations, including Peace Enforcers: The EU Intervention in Chad (2011), Peacekeepers: Irish Soldiers in the Lebanon (2001) and Into Action Irish Peacekeepers Under Fire ( 1960 – 2014 ).
Lieutenant-Colonel Dan Harvey is currently writing Soldiering Against Subversion – The Irish Defence Forces Internal Security Story ( 1969 – 2007), which will be published in 2018.
He has commenced research for another book approved for publication, titled The D-Day Irish. The Normandy landings (codenamed Operation Neptune) commenced on Tuesday, 06 June 1944 (D-Day), as part of Operation Overlord during the Second World War.
In order to conduct his research, Lieutenant-Colonel Harvey has extended an invitation to Trust's members to kindly provide any known sources associated with Irish participation in D-Day, providing names, ranks and units and specific actions, adding them to those already identified during the research process, such as Pat Gillen, Jack Mahony and Michael d'Alton.
Information will be welcomed at the following email: danharveyireland@gmail.com