Unveiling of Victory Cross Commemorative Stones, Glasnevin 11 November, 2016
Commemorative Stones (previously referred to as Paving Stones)
As part of the Decade of Centenaries, the Commonwealth War Graves Commission, with the support of the Irish Government, have commissioned Commemorative Stones for all 24 recipients of the Victoria Cross during the First World War who were born in the Republic of Ireland.  The memorial programme associated with the Commemorative Stones includes a commemoration taking place on the anniversary of the historic action for which each Victory Cross was awarded.  In conjunction with the Glasnevin Trust, the 24 Commemorative Stones will eventually be part of a unified permanent display at the Cross of Sacrifice in Glasnevin Cemetery, Dublin.
Unveiling Ceremony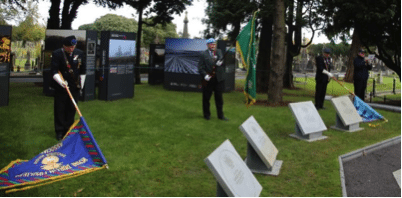 On Friday, 11 November, in association with the Armistice Commemorations, and after the Wreath Laying Ceremony, Commemorative Stones were unveiled in Glasnevin Cemetery, in honour of four Irish men who received the Victoria Cross for their bravery in the First World War: Lieutenant John Vincent Holland VC, Sergeant Martin O'Mara VC, Private Thomas Hughes VC and Corporal Frederick Edwards VC.
Speaking at the event, Minister for Public Expenditure Paschal Donohoe TD said he was honoured to have the opportunity to take part in the Armistice Day commemorations.
"Hearing the stories of those whose plaques are being unveiled also brings real life to proceedings and gives us a sense, and an understanding, of the courageousness and selflessness of those we commemorate here today."
The Military Heritage of Ireland Trust CLG was represented at the ceremony by its Chairman, Brigadier-General Paul Pakenham (Retd).
Lieutenant John Vincent Holland VC 1888 – 1975, 3rd Battalion Price of Wales's Leinster Regiment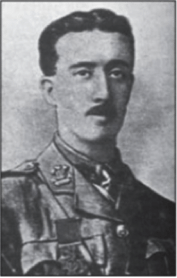 Born in Model Farm, Athy, County Kildare on 19 July 1889, John Holland was educated in Clongowes Wood College and Liverpool University.  Enlisting in the Life Guards, in 1915 on attachment to the 2nd Battalion Royal Dublin Fusliers he deployed to France.  Wounded in August 1915, he returned to Ireland to Ireland to convalesce, and later returned to France with the 7th Battalion Royal Dublin Fusiliers.
The citation for his Victoria Cross for actions on 03 September 1916 at Guillemont reads:
"During a heavy engagement, Lieutenant Holland, not content with bombing hostile dug-outs, fearlessly led his troops through our own artillery barrage and cleared a great part of the village in front. He started out with 26 troops and finished with only 5 after capturing some 50 prisoners. By this gallant action he undoubtedly broke the spirit of the enemy and saved many casualties"
He was promoted to Captain, Mentioned in Dispatches and was awarded the Hickie Parchment for bravery.  Discharged In 1918, Captain Holland re-enlisted with the 9th Lancers of the Indian Army in November 1919 and was promoted to Major.  He also served with the 9/10th Duke of Cambridge's Own Lancers (Hodson's Horse) during the Second World War.
Sergeant Martin O'Meara VC 1885 – 1935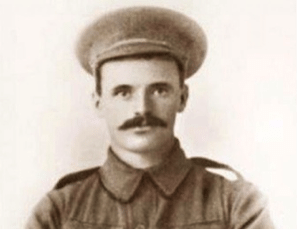 Born on 06 November 1885 in Terryglass, Lorrha, County Tipperary, Martin O'Meara emigrated to Australia and enlisted in the Australian Imperial Force Perth on 19 August 1915 in the 16th Battalion.  Following training in Egypt, the unit deployed to the Western Front.   During the period 09 to 12 August, the unit was engaged at Mouquet Farm near Pozières.
Sergeant O'Mara was credited with having saved the lives of a considerable number of his colleagues and was involved in resupply of rations and ammunition.  For this action, he was awarded the Victoria Cross and was presented with his medal by King George V at Buckingham Palace on 21 July 1917.
His citation reads:
"During four days of very heavy fighting he repeatedly went out and brought in wounded officers and men from "No Man's Land" under intense artillery and machine gun fire. He also volunteered and carried up ammunition and bombs through a heavy barrage to a portion of the trenches which was being heavily shelled at the time. He showed throughout an utter contempt of danger, and undoubtedly saved many lives."
Sergeant O'Meara was later wounded on three occasions, and his experiences led to a complete breakdown in his health. He spent the rest of his life in hospital, and died in Perth in 1935.  He was buried with full military honours.
Private Thomas Hughes VC 6th Battalion Connaught Rangers 1885 – 1942

Thomas Hughes was born in Corravoo, Castleblayney, County Monaghan.
Private Hughes received his Victoria Cross at an investiture from King George V in Hyde Park on 2 June 1917 for action during the Battle of the Somme at Guillemount, France, on 3 September 1916.
His citation reads:
"No. 3/5027 Private Thomas Hughes, Connaught Rangers.  For most conspicuous bravery and determination. He was wounded in an attack, but returned at once to the firing line after having his wounds dressed. Later, seeing a hostile machine-gun, he dashed out in front of his company, shot the gunner, and single-handed captured the gun. Though again wounded, he brought back three or four prisoners."
Private Hughes also received the 1914-15 Star, British War Medal and Allied Victory Medal. Subsequently, he was promoted to Corporal.  Corporal Hughes is buried in Broomfield, County Monaghan.
2442 Corporal Frederick Edwards VC Middlesex Regiment 1894 – 1964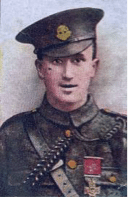 Born in Cobh, County Cork, Frederic Edwards enlisted in 1915 in B Company, the 12th Battalion, The Middlesex Regiment.
Private Edwards was awarded the Victoria Cross for action at Thiepval Ridge, France on 26 September 1916, and received his medal from King George V at Buckingham Palace on 5 February 1917
Private Edward's citation reads:
"For most conspicuous bravery and resource: part of the line was held up by machine-gun fire and all the officers had become casualties. There was confusion and indication of retirement. Private Edwards, grasping the situation and on his own initiative, dashed out towards the gun, which he knocked out with his bombs. This very gallant act, coupled with great presence of mind and disregard of personal danger, made further advance possible and cleared up a dangerous situation."
Subsequently, he was promoted Corporal and died, at the age of 69, on 09 March 1964 at the Royal Star and Garter Home in Richmond, London.
He is buried in East Sheen and Richmond Cemetery, London and his Victoria Cross is displayed at the National Army Museum, Royal Hospital Road, Chelsea, England.
Link to Military Heritage of Ireland Trust's – Image Gallery