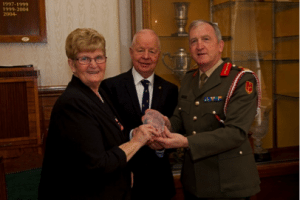 Marking their well deserved retirement after 15 years of commendable service as Keepers of the Ulster Memorial Tower, Major-General Kieran Brennan, Deputy Chief of Staff made a presentation to Mr and Mrs Terry Colligan in the Defence Forces Headquarters Officers' Mess on 07 January, 2017.
The function was co-hosted by the Defence Forces, the Military Heritage of Ireland Trust CLG and the Cavalry Club.
Working on behalf of the Somme Association and with renowned hospitality, Mr and Mrs Colligan successfully managed the Visitors' Centre and provided the celebrated welcome for all visitors to the associated memorial room and cafe.
Located at Thiepval, the Ulster Memorial Tower was the first official memorial to be erected on the Western Front, honouring the officers and enlisted personnel of the 36th (Ulster) Division.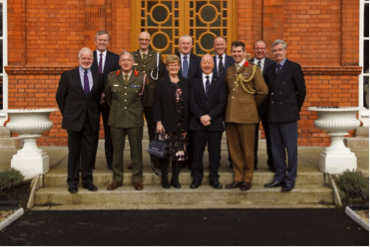 View our Flickr Gallery of this Event >>