Corporal Patrick (Bob) Gallagher, H Company, 2/4 Marines, 3 Marine Division, United States Marine Corps, was Killed in Action on 30 March 1967, in Da Nang, Vietnam. He was a recipient of the Navy Cross and Purple Heart. Corporal Gallagher's name is inscribed on Panel 17-e/Line: 71 on the Vietnam Wall of Remembrance in Arlington. Semper Fidelis.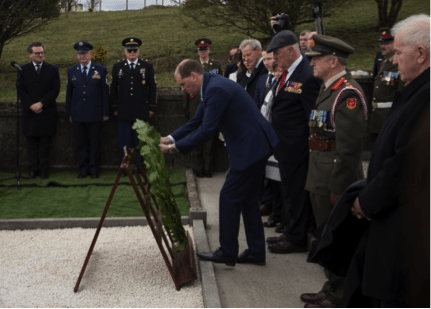 To Mark the 50th Anniversary of his death, a Memorial Day was held in his home town, Ballyhaunis, Co. Mayo on 30 March 2017. Events included a Commemorative Mass, a Parade through Ballyhaunis and Graveside Honours. The Government was represented by Mr Paul Kehoe T.D., Minister of State with Responsibility for Defence. Major-General Kieran Brennan, Deputy Chief of Staff Operations represented the Chief of Staff. Brigadier-General Michael Neil (Navy Cross) USMC (Retd) was in attendance.
Referring to Irish Soldiers from Ballyhaunis who made the ultimate sacrifice while serving in Vietnam and Lebanon, Fr Stephan Farragher PP reflected: "We can't deny the generosity of spirit and the courage and bravery of those noble young people. They paid the ultimate price by giving their lives. We often tend to take democracy for granted. Peace is as fragile as ever. International terrorism is an ever present threat in the world today."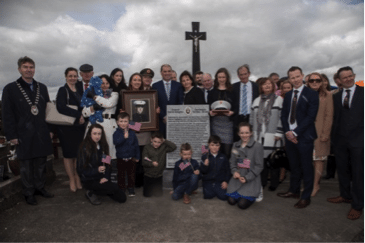 An Honour Guard and Musical Honours were provided by the Defence Forces 6 Infantry Battalion and the Band of the 2 Brigade. US Marines participated in the ceremony.
Born on 01 February, 1944, Corporal Gallagher emigrated from Derrintogher, Ballyhaunis in 1962, and lived with his aunt on Long Island, New York. Working in real estate, he went to Law School in the evenings. Returning to Ireland in February 1966, he declined to advise his family that he was drafted into the Marine Corps. He deployed to Vietnam in April 1966.
For action on 18 July 1966, Corporal Gallagher was awarded the Navy Cross, the Marine Corps highest award for valour on the battlefield. The citation reads:
"For extraordinary heroism as an ammunition carrier in a machine-gun Team with Company H, Second Battalion, Fourth Marines near Cam Lo, Republic of Vietnam, in the early morning of 18 July 1966. The company was set in defensive positions at 0145, when enemy soldiers who had infiltrated the area threw a grenade into the position which Lance Corporal Gallagher and three other Marines were manning. Lance Corporal Gallagher, awake and displaying keen presence of mind, immediately kicked the grenade out of the position where it exploded at a safe distance.
Another enemy grenade followed and landed in the position between two of his comrades. Without hesitation, in a valiant act of self-sacrifice, Lance Corporal Gallagher threw himself upon the deadly grenade in order to absorb the explosion and save the lives of his comrades.
The other three Marines moved to safety while two other grenades landed in the position and exploded, miraculously injuring no one. Lance Corporal Gallagher's Squad Leader then ordered him to throw the grenade into the nearby river where it exploded upon hitting the water.
Through his extraordinary heroism and inspiring valor in the face of almost certain death, he saved his comrades from probable injury and possible loss of life. His daring actions were in keeping with the highest traditions of the Marine Corps and the United States Naval Service."
Knowing that the publicity associated with award of the Navy Cross would reach County Mayo, in January 1967, Corporal Gallagher decided to advise his parents that he was in Vietnam. On 01 March, the front page of "Sea Tiger" a Marine Corps journal, published a report and photograph of the Commander-in-Chief US Forces in Vietnam, General William C. Westmorland, presenting the Navy Cross to Corporal Gallagher.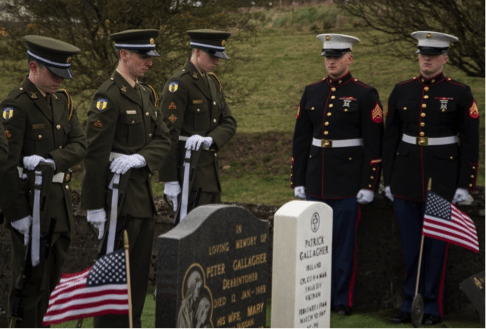 On 30 March 1967, in the vicinity of Hill 65, Da Nang, Corporal Gallagher was Killed in Action, at the age of 23. Seven of his comrades were also killed in the ambush, with two of his comrades dying later from wounds received in the action. Corporal Gallagher's remains were repatriated to Ballyhaunis, escorted by Staff Sergeant Gerry Moylan US Marine Corps.
In its publication dated 22 April, 1967, the Western People reported:
"The funeral to the new cemetery was one of the largest ever to pass through the town of Ballyhaunis . . . There was a poignant scene as Staff Sergeant Moylan laid a wreath on the grave on behalf of the US forces and then presented the American flag which draped the coffin, the Navy Cross insignia and the citation to Mrs Mary Gallagher, mother of the deceased."
"At the graveside, were two other mothers who had lost sons in Vietnam, Mr and Mrs Michael Nevin, Brize, Balla, Co Mayo, whose son, Christopher (29), was killed in Vietnam in February, 1966, and Mrs Mary Freyne, Church Street, Ballaghaderreen, whose son Corporal Bernard (Brian Óg) Freyne (21) was killed in Vietnam on 10 March 1967".
Sergeant Christopher Nevin was the first Irish Soldier to die in the Vietnam War. On 23 February, 1966, he was Killed in Action in Binh Dinh, while serving with B Company, 1 Battalion, 12 Cavalry, 1 Cavalry Division. His remains are buried in Mayo Abbey.
Also from Ballyhaunis, Private Billy Keadin, a member of the 85 Infantry Batallion, died at Position 6-24 in South Lebanon from mortar fire, while serving on his second tour of duty with the United Nations in Lebanon in 1999. He was 22 years of age and was buried with full military honours, accorded by personnel of his home unit – the 1 Infantry Battalion and the Band of the Western Command.
In 2013, an on-line petition to name a US Naval Ship (DDG Class) after Corporal Gallagher was launched by Marius Donnelly and Martin Durkin. T
hose wishing to be associated with this initiative are invited to contact Martin Durkan directly at: mdurkan11@hotmail.com
Photographs courtesy of Airman Adam Murphy, Defence Forces Public Relations Section.