Lt Col William John Phaelim Preston D.S.O., O.B.E. – 1873-1943
I was attracted to the grave of Rev Decimus William Preston by the inscription at the very bottom, referring to his grandson, William John Phaelim, who had been in the Indian Army.
Image: The Wardrobe.org.uk
The Reverend Decimus William Preston from Cavan was the grandson of a Judge of Appeal (now known as Law Lords) and his mother was a daughter of the 5th Baron Carbery. And, as though there was not enough power and prestige in the family, the good reverend married a General's daughter. His bride Emily's father may well have been the General Richard Armstrong who was Commander-in-Chief of the Madras Army from 1851 to 1853. According to the inscription on the Preston family grave, Emily died at the age of 93. The couple had 9 children, one of whom, Angelina Emily, is remembered on the family tombstone.
The gap in the headstone between Rev. Decimus and his grandson is his son, so I will start with him.
Surgeon General Alexander Francis Preston – 1842-1909
Alexander Francis Preston was born in Cavan in 1842, the eldest of Rev Decimus' children. After qualifying from Trinity College and Royal College of Surgeons, Dublin, he entered the Army Medical Service at the age of 22 and went to India as Assistant Surgeon, in the Bengal Presidency.
In 1867, Preston married Elizabeth Agabeg in St Stephen's Church, Dum Dum. The area outside Calcutta gave its name to 'dumdum bullets' produced by its gun and shell factory. The young bride was from Calcutta's large Armenian community and the daughter of Joseph and Salome Agabeg who lived in Fairy Hall. Originally the home of Moghul nobleman Nawab Aliwardi Khan, the grand house eventually descended into some sort of prayer house for religious British officers.
Armenians in India
Land routes to India were first opened to the Armenians by Alexander the Great. They quickly established trading relations with India, mostly supplying silks and precious stones. Keeping Indian royals happy with a constant supply of shiny objects earned Armenians the title of 'Merchant Princes of India'. Moghul Emperor Akbar (1542-1605) took an Armenian bride, Miriam, adding the suffix 'Zamani Begum' to her name – its literal translation being 'Queen of All Time (or Seasons)'. This earned the new Begum's community several privileges by Imperial decree. Akbar's son, Emperor Jehangir, 'gave' an Armenian wife to William Hawkins, leader of the EIC's first expedition to India in 1608.

Initially settled along the Malabar Coast, Armenians gradually spread to other parts of the country, building churches in several towns.

Calcutta's once thriving Armenian community now numbers less than 100 but the city still boasts an Armenian College.
The Prestons' first child was stillborn and the second died at five months. Overcoming their grief, they went on to have four more children – only one of whom was born in Ireland – before Elizabeth gave birth to their last child, Rosie, in Bombay in 1883.
By now Preston had risen to Surgeon Major. He was in medical charge of the 66th Regiment of Foot when it was sent to the North West Frontier in the second Afghan War, arriving in Kandahar in early 1880. The army took a severe beating in the battle of Maiwand. By the time it retreated from Kandahar the 66th was reduced to 1/3 its strength. Preston was tending the first man wounded when he was shot in the back, the bullet missing his spine by a hairsbreadth. He lay on his stretcher in a wagon for hours and endured a further 33 hours of bone-rattling march to Kandahar. For his gallantry during the siege of Kandahar, Preston was mentioned in despatches. He was invalided to Portsmouth.
But it would take more than a jezail's bullet to daunt Preston. Returning to military duties, he was promoted to Brigade-Surgeon in 1886. Ten years later, he had achieved the highest rank of Surgeon General. He took on the mantle of Principal Medical Officer in Hong Kong where, sadly, he lost his 19-year-old daughter to a lung infection.
In 1901 Preston was appointed Deputy Director-General of the Army Medical Department in Ireland and Honorary Physician to the Queen. He lived on Silchester Road, Dublin, in a house with the Indian name of Lal Puri – no doubt christened by him, and loosely translated as 'favourite place'. After the horrors of the battlefield, he revelled in non-violent pursuits – bridge, golf and sailing with the Royal Irish Yacht Club in Kingston (Dun Laoghaire). He retired in 1902 and settled in London.
Surgeon General Alexander Francis Preston died in Kensington in 1907, at the age of 65. His widow settled in Park Mansions, Kensington. By this time only three of her six children were alive. She eventually emigrated to France where she died in 1919.
A book by Conservative MP, Patrick Mercer, suggests that Sherlock Holmes' famous assistant, Dr Watson, was inspired by Preston. Arthur Conan Doyle was a doctor in Portsmouth and could well have treated Preston there. However, Dundee-based osteopath William Smith, is also thought to be the model for Watson . . . or so his son claims.
Lt Col William John Phaelim Preston D.S.O., O.B.E. – 1873-1943
WILLIAM JOHN PHAELIM, Surgeon General Alexander Preston's fifth child, was born in 1873 in the small cantonment of Morar in Central India.
He passed out from Royal Military College in Sandhurst in 1892 and started out as a Gentleman Cadet in the Middlesex Regiment (2nd Battalion). At the time the battalion was stationed in Quetta on the Afghan border, trying to control the state of anarchy in Kalat, Baluchistan. A year later, the infamous Durand Line was drawn between India and Afghanistan, bringing unconquered peoples under British domination and culminating in the creation of the North West Frontier Province.
After four years with Middlesex, Lt WJP Preston transferred to 97th Deccan Infantry. For the next five years, he served as Officiating Wing Officer, and then Quarter Master. In 1902-3 the 97th Deccan camped in Delhi for the Coronation Durbar. Then it was back to headquarters in Ellichpur in Mahrashtra. Preston was Double Company Officer for the next six years before becoming Double Company Commander.
97TH Deccan Infantry

The 97th Deccan Infantry could trace its origin to 1794, as part of the State army of the Nizam of Hyderabad. In 1903, Lord Kitchener incorporated all the Princely State forces into the Indian Army. During World War I, the 97th served in the European War in Mesopotamia.

Following World War I, the Indian army was reformed again – single battalion regiments were split into multi-battalion regiments – and the 97th Deccan Infantry became the 3rd Battalion of the 19th Hyderabad Regiment in 1921.
Upon the Independence and Partition of India, this regiment was allocated to the new Indian Army.
In August 1912, Preston married Mary Christina Nixon at St. James's Church, London. His bride's father was the Rt Hon. Sir Christopher Nixon, Vice-Chancellor of the National University of Ireland who was invested as a Knight in 1895. It doesn't look like the Prestons had any children.
Upon the outbreak of WWI, the 97th Deccan zig-zagged across India, first marching as fast as it could to Jubbulpore to protect an arterial railway line. Later that year it was ordered to the North West Frontier.
Then the regiment proceeded to Karachi where it boarded the SS Edavana for the voyage to Basra in Mesopotamia. To counteract the shortage of British officers, men were recruited from businesses, Indian Civil Service, Police and Territorial Army. The 97th moved up the River Tiber to Al Gharbi where Lt Col Preston took command of the battalion. At the battle of Shaikh Saad, he was severely wounded and command was transferred to the next senior officer, Major V G Menzies. Preston was awarded a DSO.
He rejoined the regiment, assuming command in 1918. The following year, he was attached to the Baluchistan Field Force when he was awarded an OBE. (Regiments often bailed each other out with reinforcements when the number of British officers dropped to a scary level.)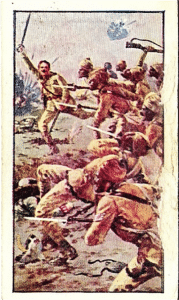 In March 1919 the exhausted 97th Deccan returned to its Regimental Depot in Ahmedabad, via Ambala, for a long overdue rest. But a little man called Gandhi had other plans for them. Barely had the men laid their weary heads down on their charpoys when a riot broke out among mill workers because Gandhi had been arrested. The panicked Collector of Ahmedabad begged the army for assistance and Preston spared him 150 men. After order was restored, the regiment was mobilised for service on the North West Frontier . . . again. Two months later it arrived in Fort Sandeman in Kapip Tangi and Preston took over control of the fort from the 1/8 Gurkhas. The 97th Deccan held the post for two months before returning to Jubbulpore in Central India.
Preston retired in 1922 due to ill health, his loss as 'an officer who had consistently remained with [the regiment] during the whole of his service' keenly felt by the 97th Deccan Infantry.
He returned initially to London, where he enjoyed membership of the Roehampton Golf Club, and then to Dublin.
Lt Col William John Phaelim Preston died in 1943 and is buried in the same grave as his grandparents in Deansgrange Cemetery, Dublin. His widow, Mary Christina, died in 1952 but I don't know where she is buried.
Military achievement was not unusual in the Preston family. WJP Preston's older brother, Eyre Evans, was also awarded an O.B.E. Furthermore, his two sons followed the family tradition of joining the army.
I will continue with their stories in my next post.