Research Guide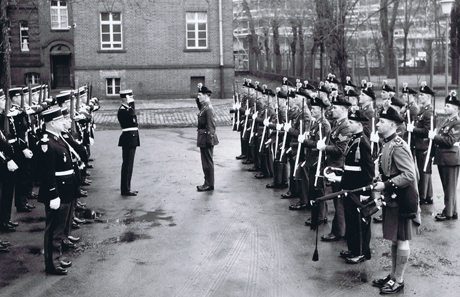 Inniskilling Fusiliers hand over Spandau Prison guard, Berlin to the French
Understanding the importance of research, nurturing a new generation of researchers and inspiring learning, the Military Heritage of Ireland Trust (CLG) welcomes research inquiries from all quarters. During the course of a year, through the medium of our web site and contacts, the Trust receives and answers a significant number of inquiries from the general public, students, researchers, institutions, veterans' associations, regimental associations and historical associations.
Publications
Building on the vast reservoir of military history publications, the Trust assists the publication of research that supports its core focus on military heritage. In this context, the Trust has commissioned, supported and launched publications.
Commissioned by The Military Heritage of Ireland Trust, "A Guide to Irish Military Heritage" (Four Courts Press) was edited by Brian Hanley and published in 2004. The guide is designed to assist those researching aspects of Irish military history. The Trust used this publication as a basis for the research information contained in this section of the website.
Military Heritage Annual Award
In advancing military heritage, the Trust promotes the study of Irish military history. The Trust will give an Award, ordinarily annually, of €500 to the undergraduate student whose paper is deemed outstanding by a panel of judges, and which, through new research, adds to our knowledge of Ireland's military heritage.
Objectives of Research Guide
One of the major aims of the Trust is to promote an inclusive view of Irish men and women who participated in conflict. Accordingly, this Research Guide attempts to promote and encourage the study of all Irish military participation, regardless of the location, or the cause espoused.
This Research Guide is designed to assist those researching aspects of the involvement of the Irish Soldier in military history from earliest times to the present day, whether seeking information on a family member's participation in an historical conflict, or engaged in academic study.
Utilising this web site and its research links, the Trust endeavours to provide technical advice, direction and information, assisting the researcher to locate particular areas of interest and the disseminating of results. The Trust welcomes feedback from individuals who avail of this Research Guide.
This Research Guide provides guidance on research sources and an overview of appropriate internet links. It lists archives, museums, heritage centres, battle sites and libraries that hold information relevant to military heritage, and provides associated contact details. Military Museums are covered with appropriate attention. Finally, the guide offers a bibliography connected with Irish military heritage and military history.
This Research Guide site is iterative in nature and will require constant review and updating by all quarters. Duplication of material contained in the Guide's directories, within this section, is intentional.
The Trust encourages those in charge of archives, museums, heritage centres, battle sites, libraries and associations to provide information on their facility for posting in this web site. Likewise, any necessary changes to their current web site entries would also be welcomed.
In the same vein, the Trust invites authors and publishers of books associated with military history involving the Irish Soldier, to provide information of such publications for posting in the web site's bibliography.