Prince Charles and The Duchess of Cornwall unveiled four Commemorative Stones to Irish born recipients of the Victoria Cross, and later laid wreaths in honour of the Irish and British people who died in the First and Second World Wars, and in the 1916 Easter Rising, at Glasnevin Cemetery Dublin, on 10 May 2017.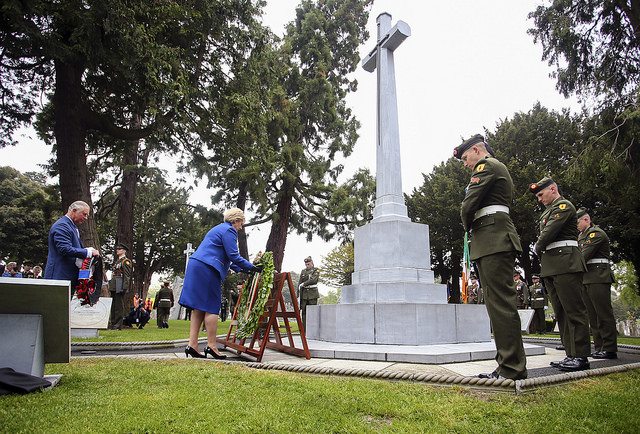 The stones are in memory of Corporal John Cunningham, Company Sergeant-Major Robert Hill Hanna, Lieutenant Frederick Maurice Watson Harvey and Private Michael James O'Rourke, who were awarded the Victoria Cross in 1917. Their respective citations can be seen below.
The Royal Party was accompanied by the Minister for Arts, Heritage, Rural Affairs and the Gaeltacht Heather Humphreys TD. The dignitaries included the Lord Mayor of Dublin Councillor Brendan Carr, the British Ambassador to Ireland H.E. Robin Barnett, the Irish Ambassador to Britain H.E. Dan Mulhall and the Chief of Staff of the Defence Forces 
Vice-Admiral Mark Mellett DSM.
Prince Charles and Minister Humphries laid wreaths at the Cross of Sacrifice and the Necrology Wall, that lists the names of 488 people killed during the 1916 Rising, including 268 civilians, 119 British Army soldiers, 63 rebels and 40 children.
Colour Parties were provided by the Defence Forces and the Royal Irish Regiment. The Honour Guard was drawn from the 2 Cavalry Squadron and musical honours were rendered by the Army Number Band. Pipers Laments were played by pipers from both the School of Music and the Royal Irish Regiment.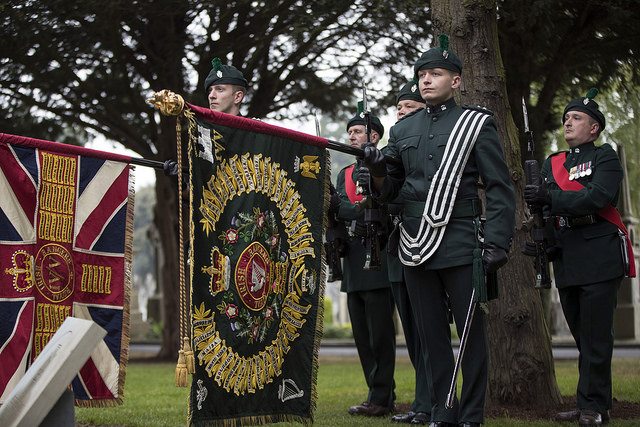 On the centenary of the Armistice marking the end of the First World Wars in 2018, thirty five Victoria Cross Commemorative Stones will be located at the Cross of Sacrifice in Glasnevin Cemetery.
The Prince of Wales also visited the Defence Forces United Nations School in the Curragh.
Photographs of the Ceremony and Commemorative Stones courtesy of the Defence Forces Flickr Channel >>
Corporal John Cunningham VC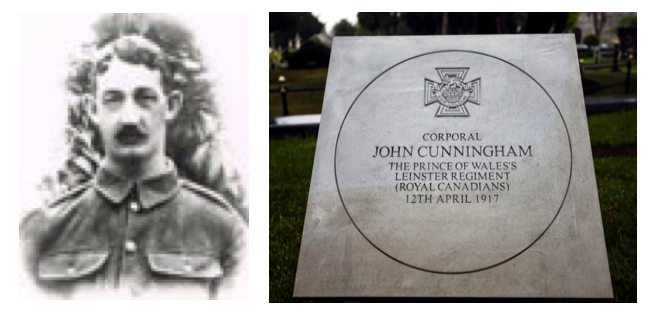 Born in Thurles, County Tipperary on 22 October 1890, Corporal John Cunnigham joined the British Army following the outbreak of World War I in July 1914 and was sent to the Western Front in France. He was gazetted for the award of the Victoria Cross posthumously on June 6, 1917 for his actions as a corporal in the 2nd Battalion, The Prince of Wales's Leinster Regiment, on April 12, 1917 at Bois-en-Hache, France. Corporal Cunningham was mortally wounded in an enemy attack on his position for which he won the Victoria Cross, and died at a hospital four days later in Barlin, France at the age of 26.
Corporal Cunningham is buried in Barlin cemetery, Pas de Calain, Plot 1, Row A, Grave 39.
His Victoria Cross citation reads: "For most conspicuous bravery and devotion to duty when in command of a Lewis Gun Section on the most exposed flank of the attack (Bois-en-Hache, France). His section came under heavy enfilade fire and suffered severely. Although wounded, he succeeded almost alone in reaching his objective with his gun, which he got into action in spite of much opposition. When counter-attacked by a party of twenty of the enemy, he exhausted his ammunition against them, then, standing in full view, he commenced throwing bombs. He was wounded again, and fell, but picked himself and continued to fight single-handed with the enemy until his bombs were exhausted. He then made his way back to our lines with a fractured arm and other wounds. There is little doubt that the superb courage of this N.C.O. cleared up a most critical situation on the left flank of the attack. Corporal Cunningham died in hospital from the effects of his wounds."
In addition to the Victoria Cross, Corporal Cunningham received the 1914-15 Star, the British War Medal (1914-20), and the Victory Medal (1914-19). His Victoria Cross and other medals are on loan to the Imperial War Museum in London.
Company Sergeant-Major Robert Hill Hanna VC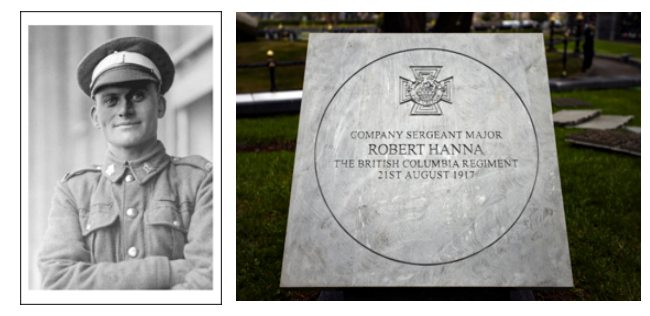 Company Sergeant-Major Robert Hanna was born in Kilkeel, County Down, on 6 August 1886, and emigrated to Canada in 1905. He joined the Canadian Expeditionary Force during the First World War, and by the summer of 1917 was a Company Sergeant-Major (CSM) serving with the 29th Vancouver Infantry Battalion.
On 21 August 1917, CSM Hanna's company was attempting to overpower a German strongpoint on Hill 70, near Lens in France. For the bravery and leadership he demonstrated in this action, CSM Hanna was awarded the Victoria Cross.
CSM Hanna's citation reads: "For most conspicuous bravery in attack, when his company met with most severe enemy resistance and all the company officers became casualties. A strong point, heavily protected by wire and held by a machine gun, had beaten off three assaults of the company with heavy casualties. This Warrant Officer under heavy machine gun and rifle fire, coolly collected a party of men, and leading them against this strong point, rushed through the wire and personally bayonetted three of the enemy and brained the fourth, capturing the position and silencing the machine gun.
This most courageous action, displayed courage and personal bravery of the highest order at this most critical moment of the attack, was responsible for the capture of a most important tactical point, and but for his daring action and determined handling of a desperate situation the attack would not have succeeded. CSM Hanna's outstanding gallantry, personal courage and determined leading of his company is deserving of the highest possible reward."
CSM Hanna was decorated for his courageous actions with the Victoria Cross by His Majesty King George V, at a ceremony held at Buckingham Palace on December 5, 1917. He later achieved the rank of Lieutenant. He returned to Kilkeel on 02 in March 1918 to a hero's welcome. Lieutenant Hanna died in Mount Lehman, British Columbia, on 15 June 1967 and is buried at the Masonic Cemetery, Burnaby, British Columbia (Plot 49, Section C, Grave 2).
70 men from Canada received the Victoria Cross, Britain's highest award for gallantry, during the First World War. As part of the Centenary Commemorations, the United Kingdom marked its gratitude to those courageous Canadian men by presenting a bronze memorial plaque to their home country engraved with their names. The plaque is now displayed at the British High Commission Ottawa.
Lieutenant Frederick Maurice Watson Harvey VC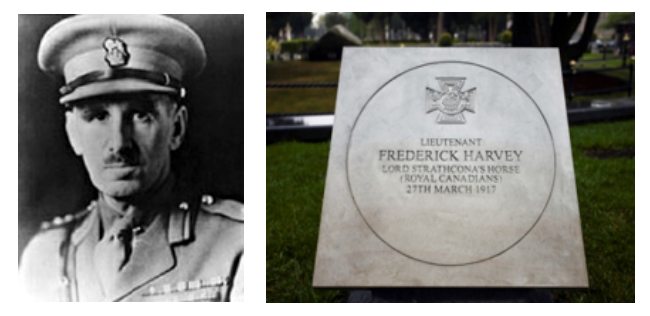 Frederick Maurice Watson Harvey was born on 1 September 1888 in Athboy, County Meath, and represented Ireland as Fly Half against Wales in 1907 (Lost 26 – 0 played in Cardiff) and as Full Back against France in 1911 (25 – 5 for Ireland played in the Mardyke Cork). He was one of three Irish rugby union internationals to have been awarded the Victoria Cross, and the only one to have been awarded the medal during the First World War.
In 1908, he emigrated to Canada settling in Medicine Hat Alberta. He enlisted on 18 May 1916 with the 13th Regiment Canadian Mounted Rifles, before transferring to the Lord Strathcona's Horse (Royal Canadians), after arriving in France.
Lieutenant Harvey was awarded the Victoria Cross for his bravery and devotion to duty during an attack on the village of Guyencourt in France on 27 March 1917. His citation reads:
"During an attack by his regiment on a village a party of the enemy ran forward to a wired trench just in front of the village and opened rapid rifle and machine gun fire at a very close range, causing heavy casualties in the leading troop.At this critical moment, when the enemy showed no intention whatever of retiring and fire was still intense, Lt. Harvey, who was in command of the leading troop, ran forward well ahead of his men and dashed at the trench, still fully manned, jumped the wire, shot the machine gunner and captured the gun. His most courageous act undoubtedly had a decisive effect on the success of the operation".
Lieutenant Harvey received the Military Cross for his role in the Lord Strathcona's Horse advance on Moreuil Wood on 30 March 1918, and was also awarded the French Croix de Guerre. He was later awarded a CBE and his Victoria Cross is displayed at the Museum of the Regiments.
Remaining with Lord Strathcona's Horse, he was promoted to Captain in 1923. He instructed in physical training at the Royal Military College of Canada from 1923 to 1927, was promoted to Lieutenant-Colonel in 1938, and, in 1939, was made Brigadier-General. Brigadier-General Harvey served as Honorary Colonel in Lord Strathcona's Horse from 1958 to 1966.
He died on 24 August 1980 at the age of 91 in Alberta, Canada and is buried in Union Cemetery, Fort MacLeod, Alberta, Section A, Block 7, Lot 12.
Private Michael James O'Rourke VC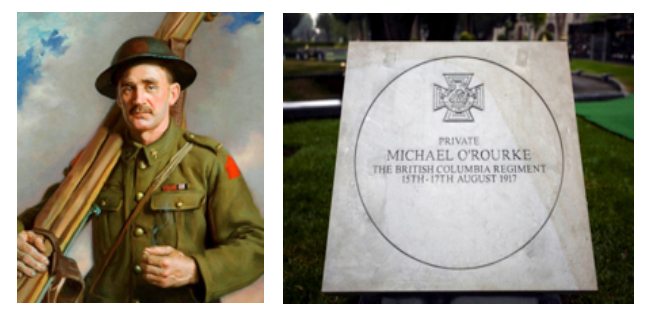 Michael O'Rourke was born in Limerick, Ireland on 19 March 1878. Before emigrating to Canada, he served for seven years with the Royal Munster Fusiliers. On arrival in Canada, and working as a hard rock miner and logger, he served with the 104 Regiment, Westminster Fusiliers of Canada. At the outbreak of the First World War, he enlisted as a private in the 7th (1st British Columbia) Battalion in the Canadian Expeditionary Force, as a stretcher bearer.
He was awarded the Military Medal for his conduct at the Battle of the Somme in 1916. Private O'Rourke received the Victoria Cross for his actions at Hill 70, Lens, France during the period 15 to 17 August 1917.
His citation reads: "For most conspicuous bravery and devotion to duty during prolonged operations. For three days and nights, Pte. O'Rourke, who is a stretcher-bearer, worked unceasingly in bringing the wounded into safety, dressing them, and getting them food and water. During the whole of his period the area in which he worked was subjected to very severe shelling and swept by heavy machine gun and rifle fire. On several occasions he was knocked down and partially buried by enemy shells. Seeing a comrade who had been blinded stumbling around ahead of our trench, in full view of the enemy who were sniping him, Pte. O'Rourke jumped out of his trench and brought the man back, being himself heavily sniped at while doing so. Again he went forward about 50 yards in front of our barrage under very heavy and accurate fire from enemy machine guns and snipers, and brought in a comrade. On a subsequent occasion, when the line of advanced posts was retired to the line to be consolidated, he went forward under very heavy enemy fire of every description and brought back a wounded man who had been left behind. He showed throughout an absolute disregard for his own safety, going wherever there were wounded to succour, and his magnificent courage and devotion in continuing his rescue work, in spite of exhaustion and the incessant heavy enemy fire of every description, inspired all ranks and undoubtedly saved many lives."
He received his Victoria Cross on 5 December 1917 from King George V at Buckingham Palace.
Private O'Rourke survived the war and returned to Canada. He died on 06 December 1957 in Vancouver.
He is buried in the Forest Lawn Memorial Park, Burnaby, British Columbia in the Normandy Section.