Dignitaries from across Ireland attended a ceremony in Armagh on 11 June, marking the centenary of the Battle of Messines – Wytschaete. The Lord Lieutenant of County Armagh the Earl of Caledon, the DUP leader Arlene Foster MLA, the Minister for Arts, Heritage, Regional, Rural and Gaeltacht Affairs, Heather Humphreys TD were in attendance.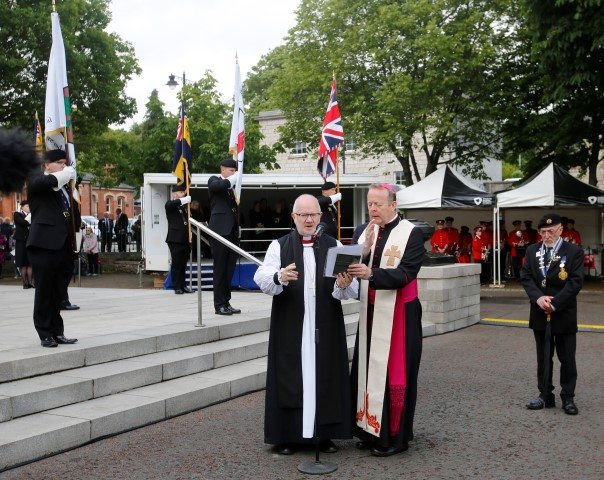 The service was jointly led by Archbishop Eamon Martin and Archbishop Richard Clarke, the Roman Catholic and Church of Ireland Archbishops of Armagh and Primates of All Ireland respectively. The address was delivered by Mr Kevin Myers, followed by the exhortation, musical honours, piper's lament and wreath laying by dignitaries and veteran associations. Representatives included the 38 Brigade, the Defence Forces and the Royal British Legion. The Armagh Old Boys Band and the Northern Ireland Military Wives Choir participated in the service.
A Memorial Bench was unveiled and dedicated to the memory of the 16th (Irish) division who died at Messines and at other battlefields during the First World War.

The Ginchy Cross, carved by soldiers of the 16th (Irish) Division, following the Battle of the Somme, was displayed in the Mall during the commemoration.
The service of commemoration was hosted by the City of Armagh Branch of the Royal British Legion. It follows the commemorations of the Battle of Messines Ridge at the Island of Ireland Peace Park in Messines on 07 June, which were jointly led by the Governments of Ireland and the United Kingdom, in partnership with the Mayor of Messines.
Minister Humphreys TD laid a wreath on behalf of the Irish Government both at the Commemoration Service and at Armagh's War Memorial, in memory of the men of the 16th Irish Division and the 36th Ulster Division who fought side by side at the Battle of Messines Ridge in June 1917.  Speaking Minister Humphreys said, inter alia: "The Battle of Messines marked the first time that the men of the 16th (Irish) Division and the 36th (Ulster) Division fought side by side during the First World War. During this campaign, unionists and nationalists set aside their differences to share a common endeavour of bravery and sacrifice. Although diametrically opposed at home, they set aside religious and ethnic differences to confront a common enemy. 


"These commemorations of the Battle of Messines – on the island of Ireland and in Belgium – present a significant opportunity for furthering the processing of reconciliation and peace-building, as we reflect upon the spirit of kinship embodied by those men who fought and died side by side.
"As we continue to move through the Decade of Centenaries, my constant priority is to promote commemorations that are respectful, inclusive and appropriate and that seek to strengthen peace and reconciliation on the island of Ireland.
"Today's commemoration is set in the context of significant State commemorations this year at home and abroad to mark the key events of the First World War in 1917 and to reflect upon the complex narratives surrounding Ireland's participation in that War. Almost every community on the island of Ireland was affected by these events and the Decade of Centenaries has provided a new opportunity to remember those who fought and died and their complex and interwoven histories."
View MHIT Flickr Gallery of the Ceremony >>