On 27 July 2017, An Post issued a stamp commemorating the centenary of the death of soldier, poet Francis Ledwidge, often referred to as 'The Poet of the Blackbird'.
Designed by Detail, a Dublin design firm, the stamp features a portrait of the Irish poet and incorporates a photograph of a blackbird by nature photographer Lewis Bates. The stamp (€1) along with a special First Day Cover is available at leading post offices, the stamp counters at Dublin's GPO, or may be viewed and purchased online at irishstamps.ie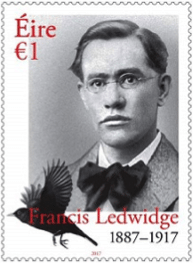 Francis Ledwidge was born in Slane, County Meath in 1887. He began his working life as a young road labourer and in 1912 won the patronage of Lord Dunsany after sending him copybooks filled with his poetry. Dunsany championed his cause in Irish literary society even introducing him to WB Yeats.
In 1914, at the outbreak of World War 1, Francis Ledwidge enlisted in the 5th Royal Inniskilling Fusiliers, part of the 10th Irish Division, and was killed at the third battle of Ypres in July 1917, just seventeen days before his thirtieth birthday.
Francis Ledwidge had continued writing poetry throughout his time in the army and his first volume of poetry was published in 1915. A second volume 'Songs of Peace' appeared just three months after his death. His complete poems were published in 1919 and his reputation as a poet, and particularly as a leading war poet, has continued to grow.
On Wednesday 12 July 2017, the National Library of Ireland hosted an event entitled 'He shall not hear the Bittern cry: The short life and enduring renown of Francis Ledwidge'.
Marking the anniversary of his death in 1917, this event, featuring poet, playwright and novelist Dermot Bolger, celebrated the life and works of Francis Ledwidge. The evening included readings of the poems of Francis Ledwidge interwoven with music. Dermot Bolger, who has edited a number of anthologies of Ledwidge's work, discussed Ledwidge's life and enduring reputation in an evening interspersed with music and readings of some of Ledwidge's finest poems. Poems were read by Poetry Aloud winner 2016 Nathan Quinn O'Rawe and finalist, Jodie Milne. Lynda O'Connor, violinist provided the music for the evening.