George Ballentine was United States Consular Agent in Ballymena, County Antrim, from 1871 until his death in 1893. After that, his son, John James George, took over his mantle and served in the same role for the next eighteen years before becoming Chief Clerk of Petty Sessions in Belfast. John married Maud Katherine Young who was born in Jamaica, daughter of a doctor. John and Maud had a daughter and two sons – both of whom they gave to the army.
BRIGADIER GEORGE CECIL BALLENTINE
1893-1973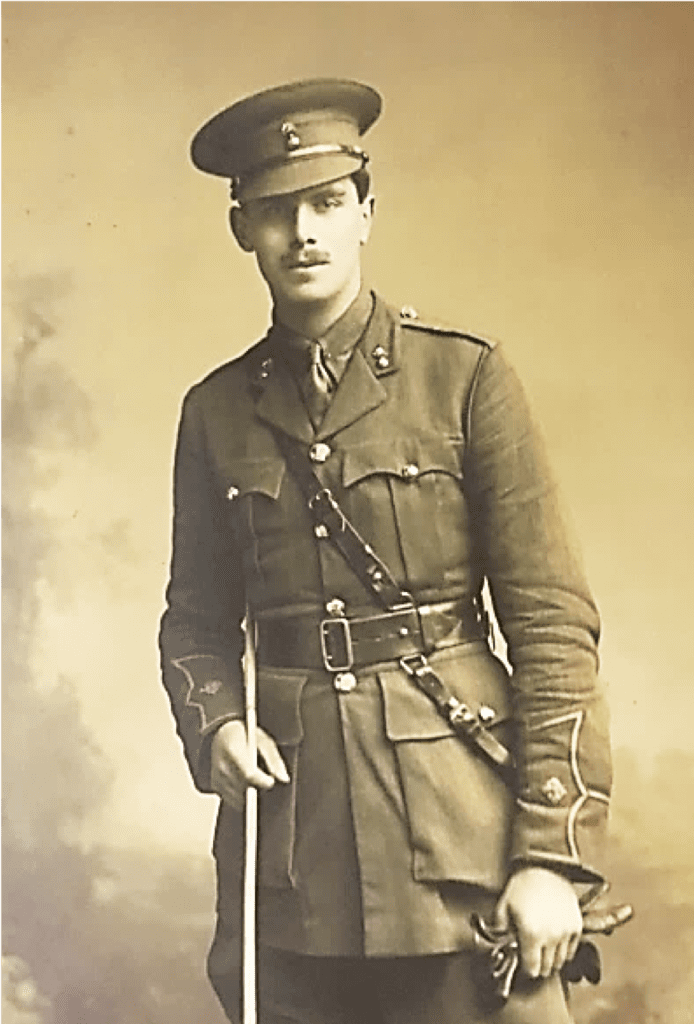 Of the Ballentines' two sons, George Cecil was born in 1893 in Ballymena. When he was old enough, he boarded in Protora Royal School in Enniskillen where he captained the rugby team. He then went on to Trinity College, Dublin, continuing to play rugby for the university team. He was also in the senior eight of the Rowing Club. It appears he did not complete his studies in Trinity because he passed the preliminary scientific exam in 1914 but was commissioned in the Royal Inniskilling Fusiliers the same year.
In 1915, the 5th (Service) Battalion was deployed to the Mediterranean and Ballentine sailed (1st Class) with it to Mudros. The regiment had barely landed in Gallipoli when, engaged in actions against the Turkish army in Suvla Bay, Ballantine was wounded along with thirteen other officers.
Upon his return to duties, he was on probation to the Indian Army, eventually being attached to the 66th Punjab Regiment, commanding a Company as Acting Captain for a short period.
In December 1921, he married Ballymena girl, Margaret Kathleen Clarke, in Belfast. 1924 was a bittersweet year for Ballentine – he lost his mother but gained a daughter, Barbara Joan, born in India. In 1929, mother and daughter sailed home and Margaret had her second baby, Margaret Scott, before returning to India. Sadly, the child died of polio in Ferozepore, Punjab, at the age of three and Margaret left for England with her older daughter, possibly to begin her schooling. In 1939, Margaret Kathleen was living in Orcomberleigh, Exmouth.
Ballentine was posted to Headquarters in Rawalpindi when the war broke out. To protect its Far East territories, an Infantry Brigade, the 44th, was hastily cobbled together in Poona and assigned to the 17th Indian Infantry Division. Brigadier Ballentine was put in command of this pick'n'mix of regulars, reservists and new recruits, some under the age of eighteen. When Japan invaded Malaya, the 44th was transferred to the Malaya Command and proceeded to Singapore in January 1942. 21,000 men of the regiment were placed on guard on a very long frontage of mangrove swamps. However, Ballentine realised he had arrived too late 'to do anything but swell the total number of prisoners in Japanese hands.' He was right. Ballentine, himself, was captured by the Japanese in February 1942 and the Malay Command was disbanded. He was taken to Mukden POW Camp in Manchuria and held there for the next three and a half years.
Upon his liberation in September 1945, the King was graciously pleased to approve Ballentine's mention in recognition of his gallant and distinguished services whilst prisoner of war in the Far East.
Ballentine retired in 1946 and returned to Ireland. He settled in Aghareany House, Donaghmore, County Tyrone and served as High Sheriff of Tyrone several times. In 1961, he and Margaret moved to Belfast and lived in 40 Deramore Drive in the smart Malone district.
Brigadier George Cecil Ballentine died in February 1973 at the age of eighty-one. Margaret Kathleen died in 1980 and is buried in the same grave in Saintfield Cemetery, Belfast.
The Ballentines' daughter, Barbara Joan, may have schooled in Chypraze, near Exmouth. In 1946, she married Geoffrey Lavie Auret in Littleham, Devon. Her husband was a Major in the 14th Punjab Regiment and had been awarded a M.B.E. as well as an O.B.E. He came from an exotic background – his mother was born in Singapore and his father in South Africa – both into Indian Army families. His father was in the Baluch Regiment and also held an O.B.E. and his older brother was in the same regiment as their father. Barbara and Geoffrey had four daughters.
I was lucky enough to make contact with Barbara's daughters, Sarah and Philippa. The latter told me their grandfather, Brigadier George Cecil Ballentine, showed her stones he kept in a drawer which he said he used to suck to allay hunger pangs in the POW camp in Mukden. The stones were sucked into smooth pebbles. Philippa also supplied the photo of her grandfather as a young officer.
17th INDIAN INFANTRY DIVISION

In 1941, three Indian infantry brigades were amalgamated to form the 17th Indian Infantry Division. The Division, based in Ahmednagar (Maharashtra), was originally meant to travel to Iraq to start training in desert warfare. However, with the outbreak of the war with Japan, the 17th became part of the Commonwealth Force and fought longer than any other formation in the Burma War. Its previous badge, of a streak of lightning, was changed to a black cat on a yellow background after Japanese propaganda claimed the division had been driven out of Burma because of its 'yellow streak'. Thus the black cat, thought to be lucky, was adopted for the new badge (albeit on a yellow background). The Division was disbanded in 1946. Badge: Imperial War Museum
MAJOR GENERAL JOHN STEVENTON BALLENTINE C.B., C.I.E
1897 – 1965
John Steventon Ballantine was born in Ballymena in 1897 – four years after his brother, George Cecil. He also attended Portora Royal School and possibly graduated from Staff College before joining the Indian Army (Unattached List) in 1916. After a few months' wait, he was assigned to 109th Infantry. He seems to have served briefly with 17th Cavalry. Ballentine married Lilian Alicia Benwell in Sussex in 1920. She was the daughter of Lt Colonel Reginald Limond Benwell of the 2nd Dragoon Guards, both of whose parents were born in India. Benwell may have served in India because ten-year-old Alicia had sailed with her mother and brother from Bombay to London. In 1922, the 109th Infantry became 4th Bombay Grenadiers and this is when Ballantine may have transferred to the newly-amalgamated Royal Deccan Horse.
Lilian Alicia gave birth to a baby girl in 1929 in Meerut, so presumably that's where Ballentine was posted at the time. There is no further record of the child so I imagine she died in infancy.
His wife was in England when Ballentine was injured in a polo match in Poona in 1933. His horse foolishly caught the polo stick between its front legs, depositing Ballantine on the ground on his head. He lay critically ill with a fractured skull in Military Hospital, Poona, while local papers back home lamented the accident. However, he made a miraculous recovery and returned to duty.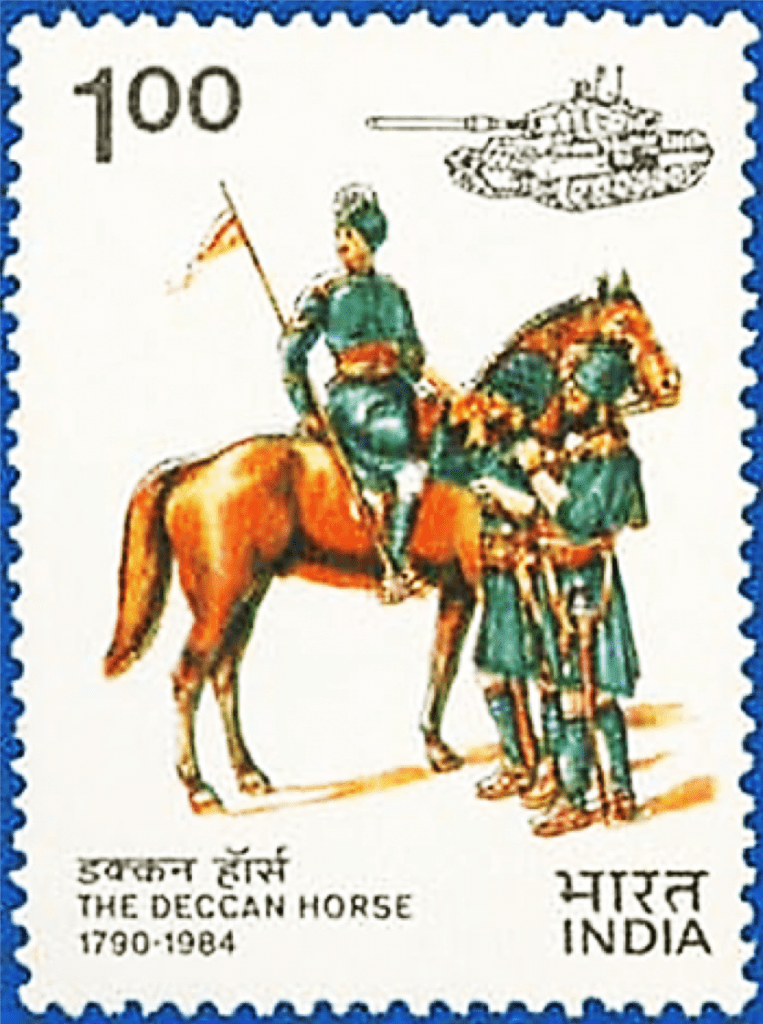 His recovery was further enhanced by his promotion to Major. In 1935 he was appointed Deputy Assistant Adjutant and Quarter Master General. Five years later, he was commanding Deccan Horse. By 1942, he had transferred to the 31st Indian Armoured Division as Assistant Adjutant and Quarter-Master-General. For the next two years he was in Army HQ as Deputy Director of Military Training.
In 1946, Ballantine was Acting Major-General in charge of Administration, Eastern Command. Based in Lucknow it had the largest concentration of troops of all other Commands in India. For his services to King and country, he was made a Companion of the Order of the Indian Empire (CIE). His last appointment was Quartermaster General, India, just as the country gained her independence. In 1947, he added the Companion of the Bath (CB) to his accolades.
Ballantine retired from the army in 1948 but went on to the East Africa High Commission in Kenya, starting out as Defence Secretary. Within the next five years he had progressed to Special Commissioner of Lands, Nairobi, Registrar General of Titles and finally, Chairman of the Preparatory Authority. When Ballantine finally retired for real, he chose to settle in sunny Portugal. Major General John Steventon Ballentine died in the British Hospital in Lisbon in 1965. His widow, Lilian Alicia, continued to live in Cascais where she died in 1972. John Steventon and his brother, George Cecil, are remembered on the War List of Portora Royal School in Enniskillen, County Fermanagh, although both appear as Lieutenants.